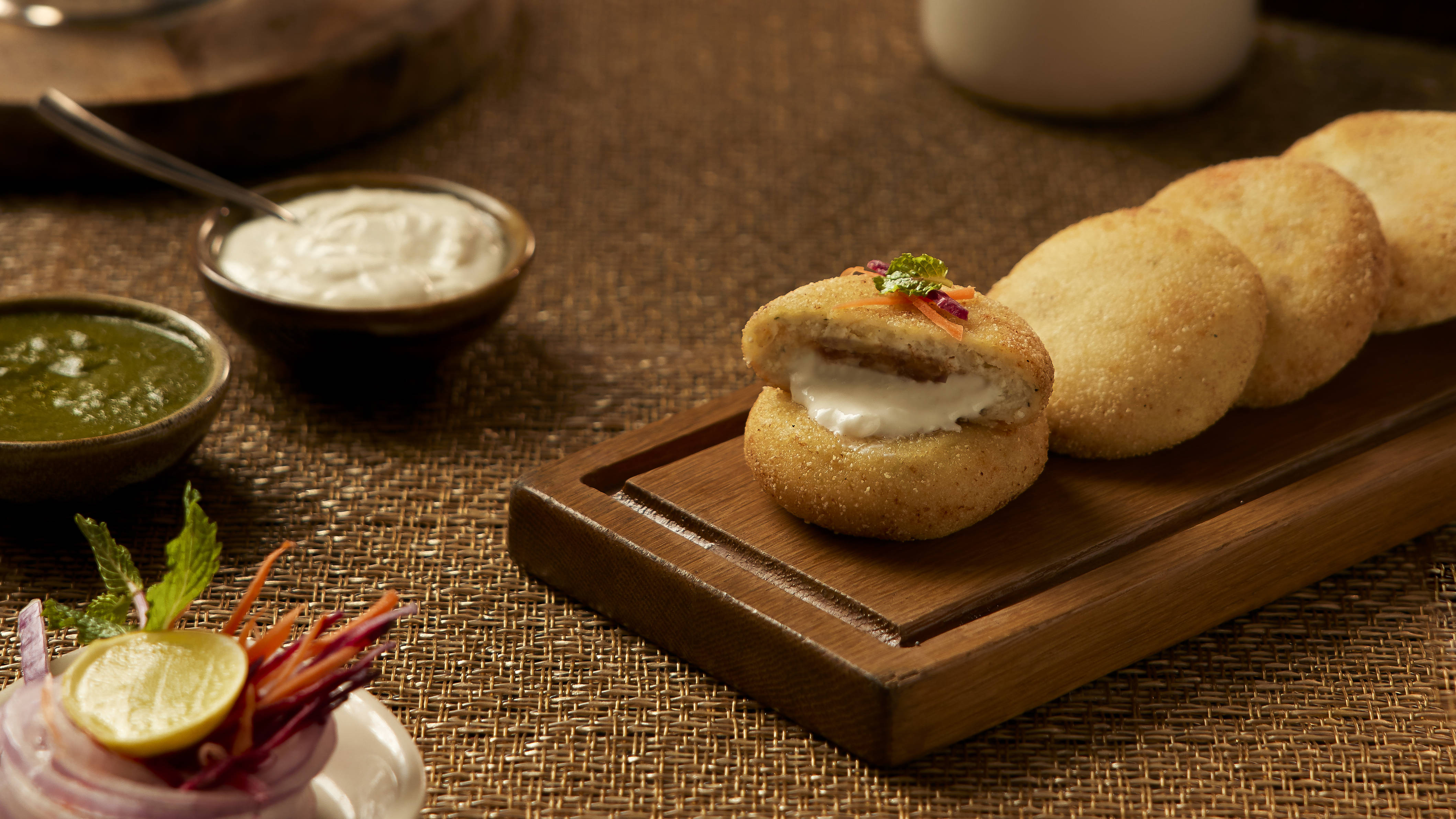 Indian Durbar crafts an enchanting experience that celebrates the royal flavours of India, with a fine blend of elegance and grandeur. Explore a menu of regional dishes featuring exotic curries, tandoor specialties, aromatic side dishes, and globally-renowned beverages.
Culinary heritage
Time-honored cooking methods, signature ingredients and the most authentic recipes create a true taste of Royal Kitchens across India.
From Rajputna, Bengali, Peshawari, Kashmiri, Patiala, Hyderabadi, Gupta, Awadhi, and Delhi cuisine – experience a celebration of unique traditions, coming together under one roof.
Menu
Chef Qureshi's Signature dishes
Hailing from a family of Royal Khansamas, Chef Gulam Nabi Qureshi acquired his mastery over the Awadhi cuisine from his father, and soon became renowned for elevating festive meals and gatherings. The legacy of the Qureshis dates back to 1870, when Abdul Munne Qureshi served as the Royal Khansama for the Nawabs of Lucknow. Decades later, the Qureshi family carries forward the same legacy, infused with a touch of modernity.
Purane chowk ka ghutwa khumb
Vegetarian Set Menu
Shakahariyon ki khatir
Kase matke ka kabab
Fried yoghurt stuffed with sweet mango, pickle, and cardamom
Shakh khiley phool
Charcoal roasted broccoli marinated with creamy cheese, chopped coriander roots, and chili
Shabname moti
Clay oven cooked stuffed button mushrooms with cream cheese
Chaman al durbar
Cottage cheese marinated with rub roasted pomegranate cooked in clay oven
Nakkhaş ka ikhlaq
Aminabad saag
Indian leafy greens tempered with red chili, cumin, and garlic
Tohfa -e- subz
A mélange of seasonal vegetables cooked in a smooth brown gravy, finished with crushed fenugreek
Mughal -e- chaman
Cottage cheese cooked in onion and cashew silky gravy smoked with cloves
Durbar -e- dal
24 hour cooked black lentil, tomato, cream, butter, and fenugreek
Lucknow subz biryani
Layered basmati rice with vegetables, yoghurt, saffron and mint
Non-vegetarian set menu
Nawabo ki daştak
Murgh surkh angaar
Succulent chicken marinated in signature spices
Nazuk ghost ki seekh
Charcoal roasted minced lamb skewer
Durbar -e- tala murgh
Spring chicken morsels marinated with red chili spiced yoghurt and dried crush rice
Mahi benazir
Saffron flavored hung curd marinated fish with Indian spices and cooked in clay oven
Mughalo ki shaan
Degchi ka maas
Rajasthani delicacy of lamb with mathania chilis smoked with cloves
Nawabi machli ka salan
Seabass cooked in brown onion cashew gravy with curd
Husainabadi murgh
Tender chicken cooked with fenugreek infused tomato gravy and double cream
Durbar -e- dal
24 hour cooked black lentil, tomato, cream, butter, and fenugreek
Dum murgh tah biryani
Layered basmati rice cooked with chicken, yoghurt, saffron, and mint
Rotiyan -&- daawat
Multigrain lachha paratha
Tab-e-masook
Rasmalai
Milk dumpling steeped in saffron flavoured milk
Durbar-e-jamun
Cardamom flavoured milk dumpling steeped in sugar syrup
Buruaat
dum kareli ka shorba
Lamb stock, garlic, onion, yoghurt, whole spices, smoked clove
Satawari piste ka shorba
Asparagus tossed with onion, crushed garlic, ginger and curd, top with pistachio
Zhakahariyon ki khatir
kase matke ka kabab
Fried yoghurt stuffed with sweet mango pickle and flavoured cardamom
Makhmali beet ki chop
Dum cooked beetroot and raw banana stuffed with spicy cheese and pine nuts coating
Shahk khiley phool
Charcoal roasted broccoli marinated with creamy cheese, chopped coriander roots, and chili
ratt aloo
Slatted sweet potato marinated with hung curd, mathania chili cooked in clay oven
Shabname moti
Clay oven cooked stuffed button mushrooms with cream cheese
Sunahari seekh
Charcoal roasted minced vegetable skewers with dry nuts and spices
Awadhi -e- noor
Clay oven cooked cottage cheese stuffed with spiced apricot and crushed pine nut
Nawabo ki daştak
mahi benazir
Saffron flavoured hung curd marinated seabass fish with Indian spices and cooked in clay oven
chandni murgh
Clay oven cooked chicken morsels marinated with cashewnut, cream, cardamom, khoya and garnished with silver leaf
jhinga mehrunnisa
Jumbo prawn marinated in mathania chili, hung curd cooked in clay oven
murgh surkh angaar
Chicken legs marinated with cashew paste and cream accentuated with rose and cardamom tanned in clay oven
nazuk ghost ki seekh
Charcoal roasted minced lamb skewer
durbar -e- tala murgh
Spring chicken morsels marinated with red chili spiced yoghurt and dried crush rice
Nakkhaş kā ikhla-q
Aminabad saag
Indian leafy greens tempered with red chili, cumin and garlic
guncha-wa qeema dumpukht
Florets of cauliflower prepared with diced of bell pepper and tomatoes cooked in a smooth tomato gravy
tohfa -e- subz
A mélange of seasonal vegetables cooked in a smooth brown gravy finished with crushed fenugreek
himayati kukurmutta
Button mushroom cooked in roasted tomato gravy, vinegar onion, fried cashew paste and home pound spices
paneer aap ki pasand
Tender paneer sautéed with choice of butter masala, palak (spinach gravy), kadhai gravy, nizami gravy, dum gravy
nawabi kofta
Stuffed mawa with apricot, dry nuts cooked with rich cardamom flavored cashew nut gravy
martaban ke gulnaar
Baby potato cooked in masala gravy and pomegranate finished with cucumber seeds
mughal -e- chamman
Cottage cheese cooked in silky onion and cashew gravy smoked with cloves
Durbar -e- paneer khaas
Homemade cottage cheese dumpling cooked with rich pound masala
Mughalo ki shaan
degchi ka maas
Rajasthani delicacy of lamb with mathania chilies smoked with cloves
daab chingri
A royal cuisine of bengal, slow cooked prawn curry flavoured of poppy seeds and coconut
ghost kho-e-awadh
Lamb cooked in onion, cashewnut, cardamom gravy and ghee finished with gold leaves
lagan pasliya ki boti
Lamb chops cooked with roghni lazeez and lazzat -e- taam masala flavoured
husainabadi murgh
Tender chicken cooked with fenugreek infused tomato gravy and double cream
lagan ka murgh
Traditional preparation by Chef Qureshi
Murgh -e- khass
Tender chicken cooked with tomato gravy and double
nawabi machli ka salan
Seabass cooked in brown onion cashew gravy with curd
Bagmati nazrane
Sada chawal
Steamed basmati rice
zafrani khuska
Dum cooked rice with shahi jeera, saffron and cashew nut
Lucknow subz biryani
Layered basmati rice with vegetables, yoghurt, saffron and mint
dum murgh tah biryani
Layered basmati rice cooked with chicken, yoghurt, saffron and mint
Dafi
dal hing baghar
Yellow lentil, tempered with asafoetida tomato and garlic
moong -e- qureshi
Overnight cooked green moong lentil with chef qureshi secret masala
Rotiyan & daawat
Gulabo ki parat
Flaky bread layered with clarified butter, rose petal, nuts and poppy seeds
amritsari kulcha
Clay oven cooked stuffed bread with mash potato, onion, green chili and pomegranate
Khamiri roti
Clay oven cooked sour dough bread
kamachi
Whole-wheat small sized sour dough bread
Tandoori roti
Plain, butter
Tandoori naan
Plain, garlic, butter
laccha/paratha
Ajwaini/pudina/mirch/plain
Missi roti
Gram flour/gluten free
Lab -e- masook
Ruhaniyat
Homemade paan ice cream with rose syrup and soaked basil seeds
gulkand rasmalai
Milk dumpling steeped in saffron flavored milk
anjeer misthan launji
Slow cooked fig and dry nuts pudding with ghee
durbar-e- jamun
Cardamom flavored milk dumplings steeped in sugar syrup
kulfi faluda
Indian ice cream slice made with condensed milk topped with vermicelli and sweet basil seeds
Indian Durbar