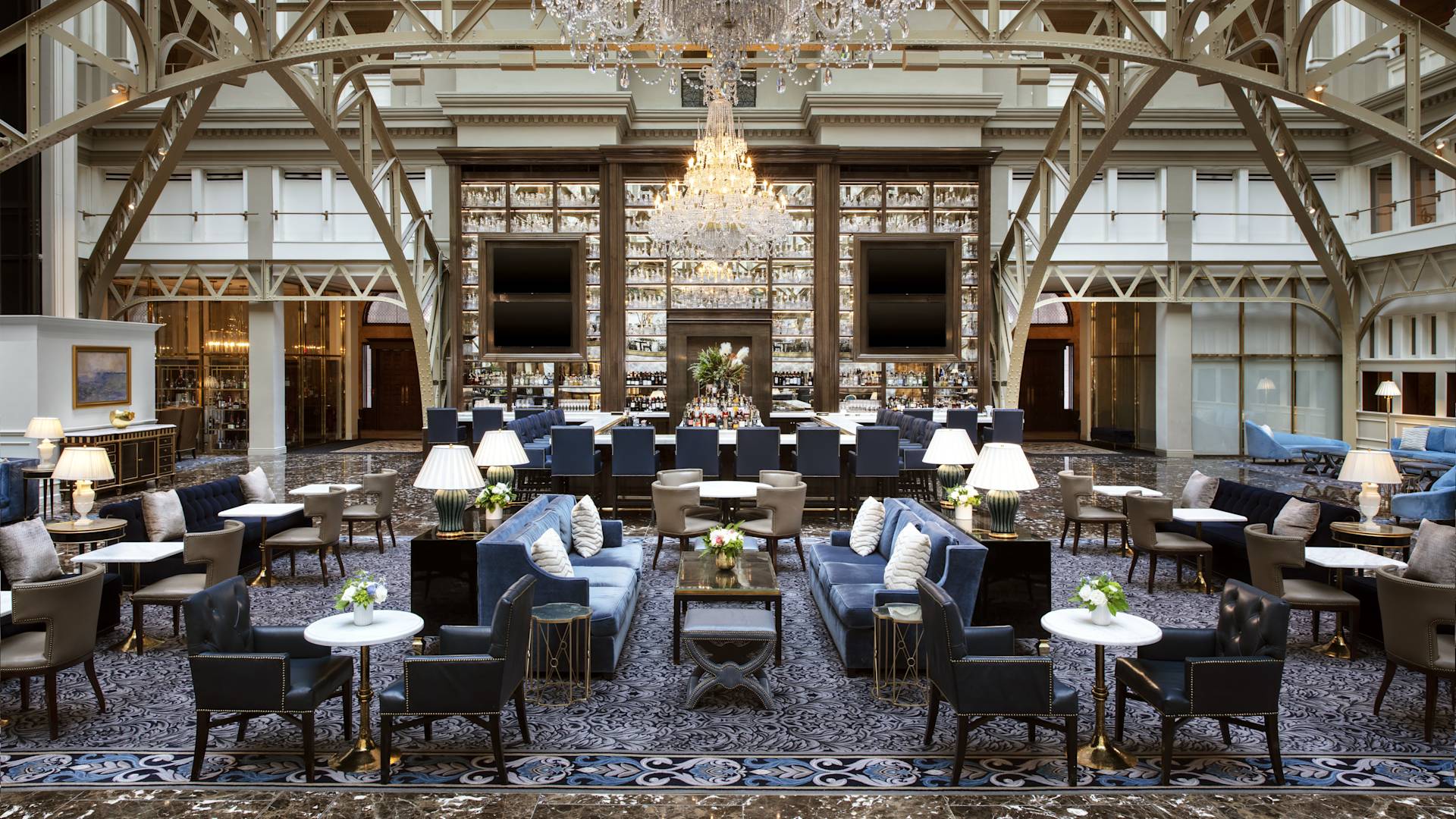 A signature in Waldorf Astoria hotels across the globe, Peacock Alley remains the place "to see and be seen" just as it was all those years ago for Manhattan's high society. Set in the soaring grand atrium, Peacock Alley offers an eclectic menu of refined cuisine, innovative cocktails, and an impeccable wine selection.
Open: 6:30 am – 11 pm
Holiday Afternoon Tea
Friday, Saturday and Sunday 12 pm to 4 pm
$80 without champagne $95 with champagne
Reservation are required 24 hours in advance
Spend the perfect afternoon in our spectacular soaring Peacock Alley atrium for Holiday Afternoon Tea. Savor delectable bites from our selection of Clock Tower Tea Sandwiches including the Larriland egg salad eclair with sturgeon caviar and chive as well as the pumpkin hummus on grilled flat bread with drunken Washington cherries and our twist on the classic Waldorf Salad with chicken, gala red and green apples on cranberry walnut bread. Our cinnamon and orange cranberry homemade scones and various holiday-themed sweets complete the experience along with the soothing sounds of our harpist.
Menus
Fruits & Cereals
Organic Steel-Cut Oatmeal
Blueberry Compote, Brown Sugar, Mixed Nuts, Choice of Milk
$18
Organic Granola
Coconut Chia Pudding, Greek Yoghurt, Berries, Nuts, Dried Fruits
$24
Selection of Seasonal Fruits
Greek Yoghurt, Local Honey
$21
Specialties
Bagel & Smoked Salmon
Add Caviar +$28
$22
Avocado Toast
Tomatoes, 7 minute Egg, Feta
$26
Ham & Cheese Multigrain Croissant
Herbed Crème Fraiche
$18
Wild Blueberry Buttermilk Pancakes
Whipped Maple Butter
$25
Egg Sandwich
Thick-Cut Bacon, American Cheese, Aioli
$24
Lobster Waffle
Poached Egg, Caviar Hollandaise, Avocado
$49
Eggs
Egg White Omelet
Chèvre, Spinach, Tomato, Green Salad
$32
Omelet
Ham, Tomato, Mushroom, Cheddar, Breakfast Potatoes
$30
Eggs Benedict
Canadian Bacon, Hollandaise, Breakfast Potatoes
$35
Three Eggs Any Style
Choice of Breakfast Meats, Breakfast Potatoes
$32
Hanger Steak & Eggs
Potato Millefeuille, Jalapeno Butter, Breakfast Potatoes
$45
Bakery
Basket of Assorted Pastries
$26
Sides
OPO Candied Thick-Cut Bacon
$12
Cold Beverages
Milk
Whole, 2%, Almond, Fat Free, Soy
$8
Juice
Orange, Grapefruit, Pineapple, Cranberry, Apple Juice
$10
Smoothies
Mixed Berry, Greek Yoghurt, Pomegranate
$18
Peanut Butter & Banana Almond Milk
$18
Green Avocado, Spinach, Apple, Cucumber, Agave
$20
Hot Beverages
Coffee 'La Colombe'
Small Pot / Large Pot
$12 / $19
To Start
Caviar 'Chips & Dip'
Hackleback Caviar, Herbed Crème Fraiche, Add Sturgeon Caviar + MKT
$55
Wild Ramp Soup
Artichoke Tortellini, Asparagus, Shiitake Mushrooms
$20
Thick-Cut Candied Bacon
Gem Lettuce, Green Onion, Tomato Jam, Kewpie Mayo
$24
Spring Pea Hummus
Avocado, Basil. Sesame, Sumac Lavosh
$18
Hamachi Crudo
Crab, Avocado, Radish, Citrus Salad
$25
Ricotta Arancini
Herb Risotto, Preserved Lemon
$18
Handcut Beef Tartare
63° Egg Yolk, Capers, Shallot, Fries
$32
Classic Shrimp Cocktail
Horseradish, Cocktail Sauce
$30
To Share
Artisanal Cheese Selection
$35
Regional Charcuteries
Mustard, Pickled Vegetables
$38
Grand Plateau
Cheese & Charcuterie Tasting
$65
Smoked Salmon Pizza
Capers, Egg, Pickled Onion, Arugula
$26
Margherita Pizza
Roasted Tomatoes, Basil
$25
Brussels Sprout Ceasar Salad
Gem Lettuce, Radichio, Gremolata
$14 / $22
Chopped Salad
Humboldt Fog Chèvre, Strawberry, Cucumber, Watermelon, Tomato, Radish, Balsamic
$25
Add:
Grilled Chicken $14, Prawns $18, Hanger Steak $20, Ora Salmon $22
Mains
Miso Ora Salmon
Sushi Rice, Sesame Spinach, Pickled Shiitake, Ponzu
$55
Summer Truffle Ravioli
Ricotta, Asparagus, Pickled Morels
$40
Bell & Evans Garlic Roasted Chicken
Asparagus, Potato Purée, Roasted Chicken Butter, Pickled Mustard Seed
$48
Postman's Burger
Aged White Cheddar, Grilled Onions, Pretzel Bun, Old Bay Aioli, Fries
$34
Steak Frites*
Grilled Hanger Steak, Béarnaise
$42
Wagyu Ribeye
Potato Millefeuille, Smoked Carrot Purée, Red Wine Sauce
$95
Desserts
Textures of Chocolate
Valrhona Chocolate
$24
Strawberry Shortcake
Almond Dacquoise, Vanilla Mousse, Strawberry Kiwi Sorbet
$19
Crème Brulé
Brandied Cherry
$18
Banana Foster Bread Pudding
Candied Pecan, Brown Butter, Bourbon Ice Cream
$21
Earl Grey Punch
Bacardi 10 Year Rum, Smith & Cross Rum, Orange Curacao, Lemon, Earl Grey Tea, Nutmeg
$31
Printer's Old Fashioned
High West Double Rye, Laird's Applejack, Peychaud's Bitters, Salted Honey, Angostura Bitters
$27
Two Thousand Pounds of Sterling Silver
Ketel One Botanical Peach & Orange Blossom Vodka, Sparkling Rose Wine, Lemon
$29
A More Natural Order
Suntory Toki Whiskey, Black Tea, Orange Phosphate, Orange Flower, Seltzer
$30
Richard Saunders
Remy Martin VSOP Cognac, Amontillado Sherry, Absinthe, Carpano Antica Sweet Vermouth
$34
King's Cobbler
Milagro Reposado Tequila, Montelobos Espadin Mezcal, Strawberry, Graham's 20 Year Port, Lemon, Angostura Bitters
$26
The Originals
The Waldorf Cocktail
Woodford Reserve Rye, Carpano Antica Sweet Vermouth, Pernod Absinthe, Orange Bitters, Lemon Oil
$26
A Spicy Margarita
Patron Silver Tequila, Anaheim Chili, Rose, Agave, Orange, Lime
$32
Vesper Martini
Plymouth Gin, Grey Goose Vodka, Cocchi Americano Aperitif
$28
Bismark Fizz
Riesling, Raspberry, Lemon, Sparkling Wine
$30
Peacock Negroni
Bols Genever, Dolin Dry Vermouth, Campari
$28
By The Glass
Sparkling
Sparkling, NV, Bouvet Ladubay
Cremant de Loire, France
$21 / $75
Champagne, NV, Veuve Clicquot
Reims, France
$35 / $140
Champagne, NV, Ruinart Blanc de Blancs
Reims, France
$55 / $192
Champagne, NV, Ruinart Rose
Reims, France
$55 / $192
Champagne, NV, Bollinger Rose
Champagne, France
$79 / $276
Rose
Chateau d'Esclans 'Whispering Angel'
Cotes de Provence, France
$16 / $64
Arrocal, Tempranillo
Ribera del Duero, Spain
$15 / $60
Solarce, Casa la Rad
Rioja, Spain
$17 / $68
White
White Grenache, Legado del Moncayo
Campo de Borja, Spain
$15 / $60
Pinot Blanc, Tramin Moriz
Trentino-Alto, Adige, Italy
$18 / $72
Sauvignon Blanc, Frog's Leap
Napa Valley, CA
$17 / $68
Albarino, Don Olegario
Rias Baixas, Spain
$15 / $60
Pinot Grigio, Terlato Family
Colli Orientali del Fruili, DOC, Italy
$16 / $64
Riesling, Trimbach
Alsace, France
$19 / $76
Chablis, Domaine Vocoret
Burgundy, France
$30 / $120
Chardonnay, Cakebread Cellars
Napa Valley, CA
$35 / $140
Chardonnay, Chateau Montelena
Napa Valley, CA
$45 / $180
Chardonnay, Sanford
Sta Rita Hills, CA
$17 / $68
Red
Pinot Noir, Ponzi Vineyards Tavola
Willamette Valley, OR
$19 / $76
Cru Beaujolais, Domaine Blain Soeur et Frere Brouilly
Beaujolais, France
$26 / $104
Nebbiolo Damilano Marghe Langhe, DOC
Piedmont, Italy
$24 / $96
Tempranillo, Arrocal
Ribera del Duero, Spain
$19 / $76
Meritage, Chateau Boutisse Grand Cru
Bordeaux, France
$30 / $120
Toro, Elias Mora, Crianza
Toro, Spain
$24 / $96
Malbec, Bodega Norton Reserva
Mendoza, Argentina
$14 / $56
Cabernet Franc, Conn Creek
Napa Valley, CA
$23 / $92
Cabernet Sauvignon, DAOU
Paso Robles, CA
$20 / $80
Cabernet Sauvignon, Caymus
Napa Valley, CA
$55 / $220
Premium Wines
Served with Coravin System
Chardonnay, JM Boillot
Puligny Montrachet, France
$33 / $66 / $275
Cabernet Sauvignon, Paul Hobbs
Beckstoffer Las Piedras Vineyard, Napa Valley CA
$233 / $467 / $1945
Shiraz, Mollydooker, Velvet Glove
McLaren Vale, Australia
$42 / $84 / $350
Sweet
Furmint Blend, 2009, Royal Tokaji
Puttonyos, Hungary
$24 / $149
Furmint, 2015, Patricius, Katinka, Noble Late Harvest, Tokaji
Puttonyos, Hungary
$17 / $85
Sauternes, 2016, Cypres de Climens
Barsac, France
$15 / $120
Amuse Bouche
Seared black fig, shallot confit with goat cheese cream and orange honey blossom
Appetizers
Choose from
Pan-seared scallops with romanesco purée and hazelnut brown butter sauce
Potato leek soup with sautéed black trumpet mushrooms
Entrées
Choose from
Miso glazed Chilean seabass with citrus beurre blanc and saffron fennel purée
Seared duck breast in a port sauce with smoked carrot purée and roasted baby turnips
Desserts
Choose from
Red velvet Santa sweet treat
Chocolate hazelnut bûche de Noël
Cold Plates
Chia parfait with mixed berries and agave nectar
$22
Overnight oats with Washington apples and dried fruits
$18
Hot Offerings
Lobster, spinach and beluga caviar omelet
$34
Egg white frittata with asparagus, oven dried tomatoes and mushrooms
$28
'Scrambelizza' scrambled egg frittata with cheese and tomato sauce on a tortilla shell
$26
Grilled Virginia honey glazed ham with country style potatoes and brussel sprouts
$30
French toast with bananas in dulce de leche sauce
$24
Sweets
Chocolate lava cake with crème chantelline
$24
Warm sticky toffee pudding with dates
$22
Cinnamon bunuelos amuse bouche in tamarind sauce
$22
Countdown at the Clock Tower
$150
Amuse Bouche
Grilled courgette with mixed olives and sun-dried tomato tapenade
Appetizers
Choose from
Foie gras torchon with gala apple chutney, pineapple gastric and brioche
Entrées
Choose from
Beef wellington in Malbec jus with creamy mashed potatoes and brussel sprouts
Dover sole fillet with tomato caper relish, Swiss chard and Provencal potato
Friday | Saturday | Sunday
Add a Glass Of Champagne
$95 per person
Tea Selections
Waldorf Astoria Washington DC has partnered with Rishi to provide a luxurious and unique tea experience for our guests.
English Breakfast
Lively, robust red cup with a brisk flavor and notes of dates and raisins
Earl Grey
Smooth and lively with the unique, citrusy, floral aroma of bergamot oranges
Jasmine Pearls
Tender tea leaves, hand-rolled and deeply infused with the sweet aroma of jasmine blossoms
Silver Needles
Reserve white tea with a sublime, sweet flavor and rich, savory finish
Chamomile Medley
Calming ensemble of chamomile with hints of refreshing citrus and mint
Peppermint Vanilla Bean
Decadent vanilla bean and sweet Saigon cinnamon complement smooth, rich pu'er tea
Hibiscus Berry
Rejuvenating tropical fruit tea highlighting tart hibiscus and luscious forest berries
Chocolate Chai
Decadent cacao and creamy sarsaparilla with rich coconut and bittersweet dandelion root
Cinnamon Plum
Warming blend of juicy plum, succulent currant, and sweet Saigon cinnamon
Premium Champagne Enhancements
Champagne Lanson Brut Rosé Champagne
$85
375ml
Perriet-Joeut Brut Champagne
$105
375ml
Krug Grande Cuvée Brut Champagne
$195
375ml
Krug Rosé Champagne
$325
375ml
Tea Sandwiches
Sturgeon Caviar Éclair
Larriland Egg Salad, Chive
Maryland Crab Salad
Ponzu Aioli, Green Onion, Brioche
Pumpkin Hummus
Drunken Washington Cherries, Grilled Flat Bread
Wegmeyer Farms Cucumber
Dill Crème Fraiche, Pickled Mustard
Waldorf Chicken Salad
Gala Red and Green Apples, Cranberry Walnut Bread
Scones
Cinnamon, Orange Cranberry
Accompaniments: Hot Virginia Peach Chutney, Devonshire Cream, Berry Compote
Sweet Treats
Dalacada Squash, Hazelnut Cream Puffs
FireFly Farms Sweet Potato Fruit Cake
Afternoon Tea Enhancement
Beluga Caviar, Brioche
$50
Please call to book you reservations 24 hours in advance. Available seating times are 12:00 pm, 1:00 pm and 3:00 pm. All food & beverage prices are subject to a 20% service charge and a 10% sales tax.
USA

/

Peacock Alley