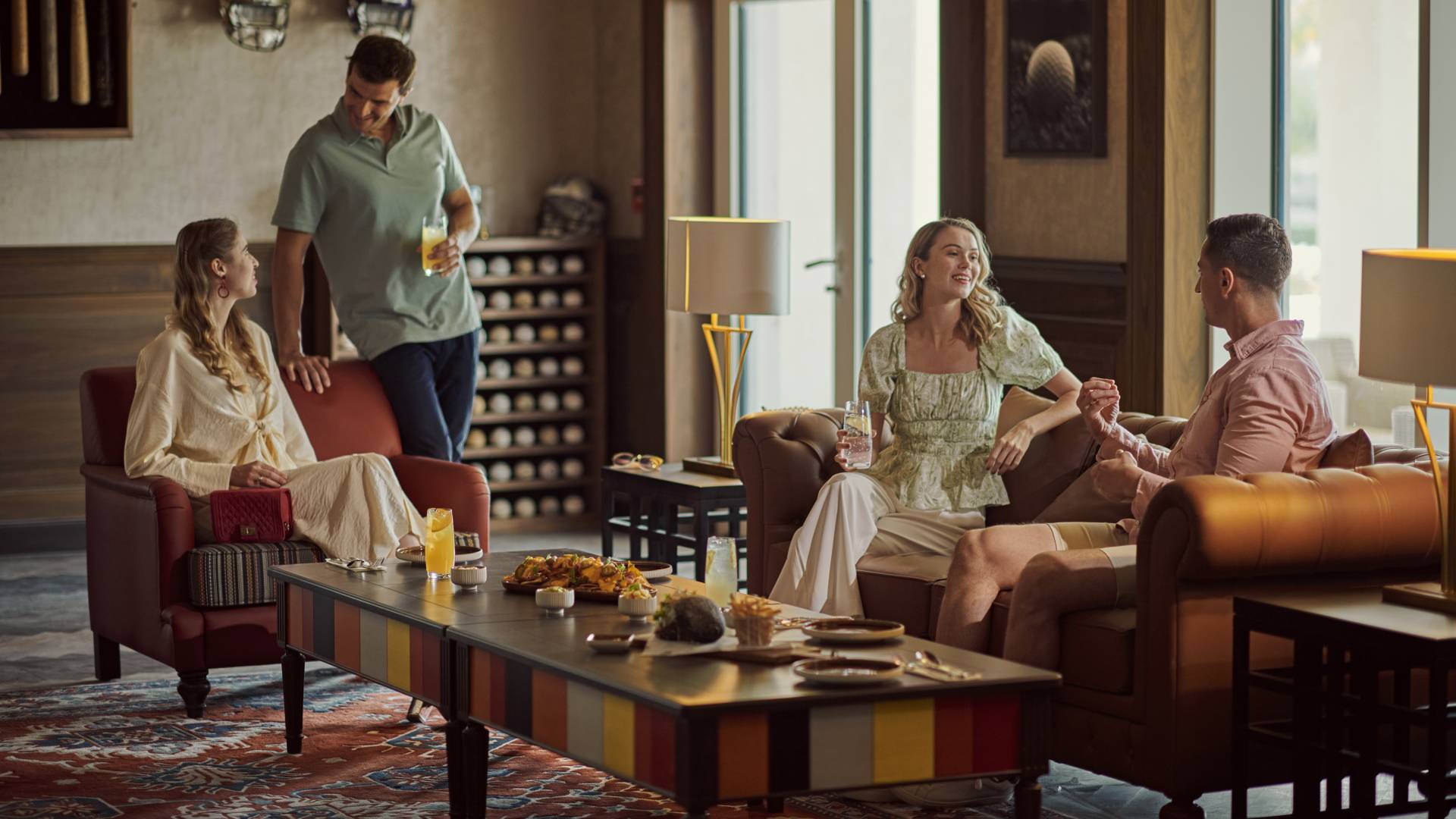 Welcome to this leisure destination providing sports, entertainment, a full bar, and a classic gastro pub menu. Enjoy treats from the smoker on our BBQ nights, comfort food sharing buckets, and our NFL inspired burger selection.
Details
Sunday till Wednesday from 6pm till Midnight
Telephone: +974 4423 6666
Food Menu
All prices are in Qatari Riyal
Cobb Salad
Chopped greens, tomato, crispy veal bacon, grilled chicken breast, hard-boiled egg, avocado, chives, stilton cheese dressing
The League Salad
Grilled shrimp, green apple, caramelized pecan nuts, dried cranberries, citrus vinaigrette
Chicken Caesar Salad
With grilled BBQ chicken breast
88
Prawn Caesar Salad
With grilled lemon black tiger prawns
98
Small: serves 1-2 person | Large: serves 3-4 persons
All prices are in Qatari Riyal
Chips & Dips
Pico de gallo, sour cream
52, 122
Chicken Lollipops
BBQ, Blue Cheese & Buttermilk, Cajun, Tandoori
68, 138
Veal Schnitzel Bites
Vienna, Hunter, Curry, Gypsy
72, 152
Veal Cordon Bleu
Vienna, Hunter, Curry, Gypsy
78, 158
Spicy Lamb Spare Ribs
Raiti, BBQ, apricot chutney
88, 188
Empandas
Chicken & corn, braised beef & potato, cheese & ham, spicy tomato sauce, mango aioli
58, 138
Shrimp & Corn Boil Up
82, 178
Fry Basket
Calamari, fish goujons, shrimp, onion rings, potato skins, Japanese wasabi mayo
98, 222
Potato Skins
Cheese, poutine, red & white
58, 98
Sandwiches
All prices are in Qatari Riyal
BBQ Vegetables Panini
Whole wheat bread, basil & pine seed mayonnaise
72
Roast Beef
Toasted Japanese milk bread, melted Manchego cheese, Russian dressing, pickle
82
Burgers
All served with hand cut fries and BBQ slaw. Gluten-free buns are available.
OFFENCE
100% American USDA choice beef burgers
Center
Classic butter brioche, beef patty, American cheddar cheese lettuces, tomato, pickle, secret sauce
72
Quarter Back
Fennel brioche, beef patty, Maine lobster, truffle Hollandaise sauce
158
Full Back
Classic butter brioche, Wagyu beef pattie, foie gras, Swiss cheese, sautéed mushrooms, truffle mayonnaise
138
Wide Receiver
Salad bun, beef pattie, pulled beef short rib, onion rings, BBQ sauce
88
DEFENCE
Vegetarian burgers
Linebacker
Carrot & muesli bun, beyond burger patty, avocado, Swiss cheese
82
Defence Tackle
Zataar & labneh bun, lamb kofta, chili hummus, Arabic pickle
78
Corner Back
Fenugreek bun, masala potato pattie, turmeric tempura, raita
72
Mains
All prices are in Qatari Riyal
Beef Croquettes
Tomato sauce, cheese, chives
35
Chicken Pop Corn
French fries, cheese sauce
45
Mac & Cheese
Turkey ham, parsley
45
Ham & Cheese Empanadas
French fries, pesto dip
40
Grilled Ham & Cheese Finger Sandwhich
French fries
45
Breaded Fish Fingers
French fries, mango aioli
45
Deserts
Vanilla Ice Cream
Chocolate sauce
20
Mixed Fruit
Chocolate sauce
28
Deserts
All prices are in Qatari Riyal
Churros & Chococlate
Cinnamon, dark chocolate
38
S'mores
Marshmallow fluff, vanilla bean ice cream
42
Banoffee Pie
Served in a jar with Bailey's ice cream, toffee sauce, pecan brownie, banana
48
Jumbo Chocolate Chip Cookie
Caramel center, macadamia nuts, vanilla ice cream cone
42
Freak Shakes
Kit Kat Brownie Shake & Cup
Chocolate ice cream, whipped cream, KitKat, white marshmallow, mini donuts, almond crumble, chocolate chips, chocolate cookie
68
Strawberry White Choc-Chip Shake & Cup
Strawberry ice cream, whipped cream, pink marshmallow, M&M'S, jelly beans, fizz worms, cherry
68
Vanilla Marshmallow Shake & Cup
Vanilla ice cream, whipped cream, marshmallow, lady finger, M&M'S, fizz worms, jelly babies, mini wafer cones
68
Drinks Menu
Beer Buckets
All prices are in Qatari Riyal
Bucket of six beers
Choice of: Heineken, Peroni, Corona, Asahi, Al Maza, Tiger, Budweiser, Budweiser Light
198
Draught Beer
250 ml or 500 ml
Beer
IPA Fuller's India Pale Ale
500 ml
62
Cider & Cooler
Bacardi Breezer
Orange, watermelon, pineapple
52
Signature Champions League Cocktails
All prices are in Qatari Riyal
Dune Surfers Shade
Absolut, midori, passion fruit, fresh pineapple, lime juice
68
The Figure Skater
Absolut, SoCo, berry kaleidoscope, lime
68
Ice Gymnast
Bacardi Carta Blanca, "Blue", Curaçao, Archers peach schnapps, pineapple juice, drop of sweet
68
Skydivers Ripcord
Martini Bianco, red bull, passion fruit, orange, cranberries
78
Archers Pink Skirt
Edinburgh gin raspberry, triple sec, berry mix, fresh lemon juice, egg white
78
Signature Premier League Cocktails
Boxers Spice
Sailor Jerry spiced rum, crafted ginger & vanilla honey, fresh apple & lime juice
68
Fencing Zest
Ballantine's Finest, Martini Roso, Grand Marnier, orange bitters, secret Salwa smoke
68
S.O.F League
Jim Beam, Canadian Club, crafted in house old fashioned syrup, secret Salwa smoke
68
The Kickboxer
Jim Beam, Drambuie, crafted cinnamon syrup & fresh lemon juice
68
The Cricket's Dream
Edinburgh Gin Cannonball Navy, Martini Extra Dry, Benedictine, orange bitters
72
The League Sours
Calvados, Elderflower liqueur, peach puree, lemon juice, egg white
72
Signature Penalty Shots
Knockout
Bailey's Irish Cream, Sailor Jerry Spiced Rum
48
Crush Helmet
Archers Peach Schnapps, Bailey's Irish Cream, Grenadine
48
Penalty Shot
Absolut, Blue Label,, Amarula Cream, "Blue", Curaçao, Midori Melon
48
Home Run
Courvoisier VS, Single espresso
48
Red Sox Shot
Archers Peach Schnapps, Jägermeister, Apple & cranberry juice
48
Nutty Gala
Amarula Cream, Disaronno Amaretto, Frangelico, Cream
48
Foot Work
Bottega, Limoncino di Grappa, Bottega, Gianduia, Chocolate e Grappa, Mango Juice
48
L.B.W
Olmeca Blanco, Patron XO, "Café"
48
Hattrick
Olmeca Blanco, Midori Melon, Blue Lagoon Syrup
48
Freestyle
Olmeca Blanco, Kahlua, Bailey's Irish Cream, Frangelico
48
Mocktails
Signature Zero Cocktails
The Haka
Green apple syrup, fresh kiwi, pressed lime and soda water
42
The Ruck
Artisan peppermint tea syrup, peach, pineapple & soda water
42
Quarterback's Wife
Lychee juice, elderflower syrup, homemade berry soda
42
Laurel Wreath
Lavender syrup, homemade berry zest soda water, rose water, freshly pressed lime
42
Olympic Gold
Grapefruit juice, homemade old fashioned syrup, San Pellegrino Aranciata, gold dust
42
Gin
All prices are in Qatari Riyal
Edinburgh Gin Cannonball Navy
48
Flavoured Gin
Edinburgh Gin Rhubarb & Ginger
48
Edinburgh Gin Elderflower
48
Edinburgh Gin Raspberry
48
Rum
Sailor Jerry Spiced Rum
42
Captain Morgan Jamaican Rum
42
Scotch Blended Whiskey
Chivas Regal
12 Year Old
58
Johnnie Walker
Black Label, 12 Year Old
58
Chivas Regal
18 Year Old
78
Chivas Regal
25 Year Old
268
Single Malt Whiskey
Glenmorangie
10 Year Old
62
Auchentoshan
12 Year Old
62
Glenfiddich Solera
15 Year Old
68
Glenfiddich
Small Batch Reserve, 18 Year Old
78
U.S.A Whiskey
Jack Daniels Single Barrell
62
Wine By The Glass
All prices are in Qatari Riyal
Millesimato Bottega Brut
Sparkling
42
Montepulciano d'Abruzzo
Red
42
Finca La Linda Malbec
Red
58
Romio Pinot Grigio
White
42
Oyster Bay Sauvignon Blanc
White
78
Wine By The Bottle
Millesimato Bottega Brut
Sparkling
210
Tintoretto Prosecco di Conegliano
Sparkling
328
Montepulciano d'Abruzzo DOC
Red
210
Finca La Linda Malbec
Red
268
Robert Mondavi Cabernet
Red
538
Ravenswood Zinfandel Vitner's
Red
518
Robert Mondavi Merlot
Red
428
Celeste Ribera del Duero
Red
618
Villa Antinori Rosso IGT
Red
458
The Chocolate Block
Red
648
Romio Pinot Grigio
White
210
Oyster Bay Sauvignon Blanc
White
378
Villa Antinori Bianco IGT
White
388
Protos Verdejo Rueda
White
328
Casa Ferreirihna Planalto
White
338
Woodbridge Chardonnay
White
328
Bottled Water
All prices are in Qatari Riyal
Soft Drinks
Soft Drinks
Coca Cola, Diet Coke, Sprite, Tonic Water, Ginger Ale, Fanta Orange
18
San Pellegrino
Limonata, Aranciata, Aranciata Rossa
28
Hot Coffee
All prices are in Qatari Riyal
Decaffeinated Americano
32
The League