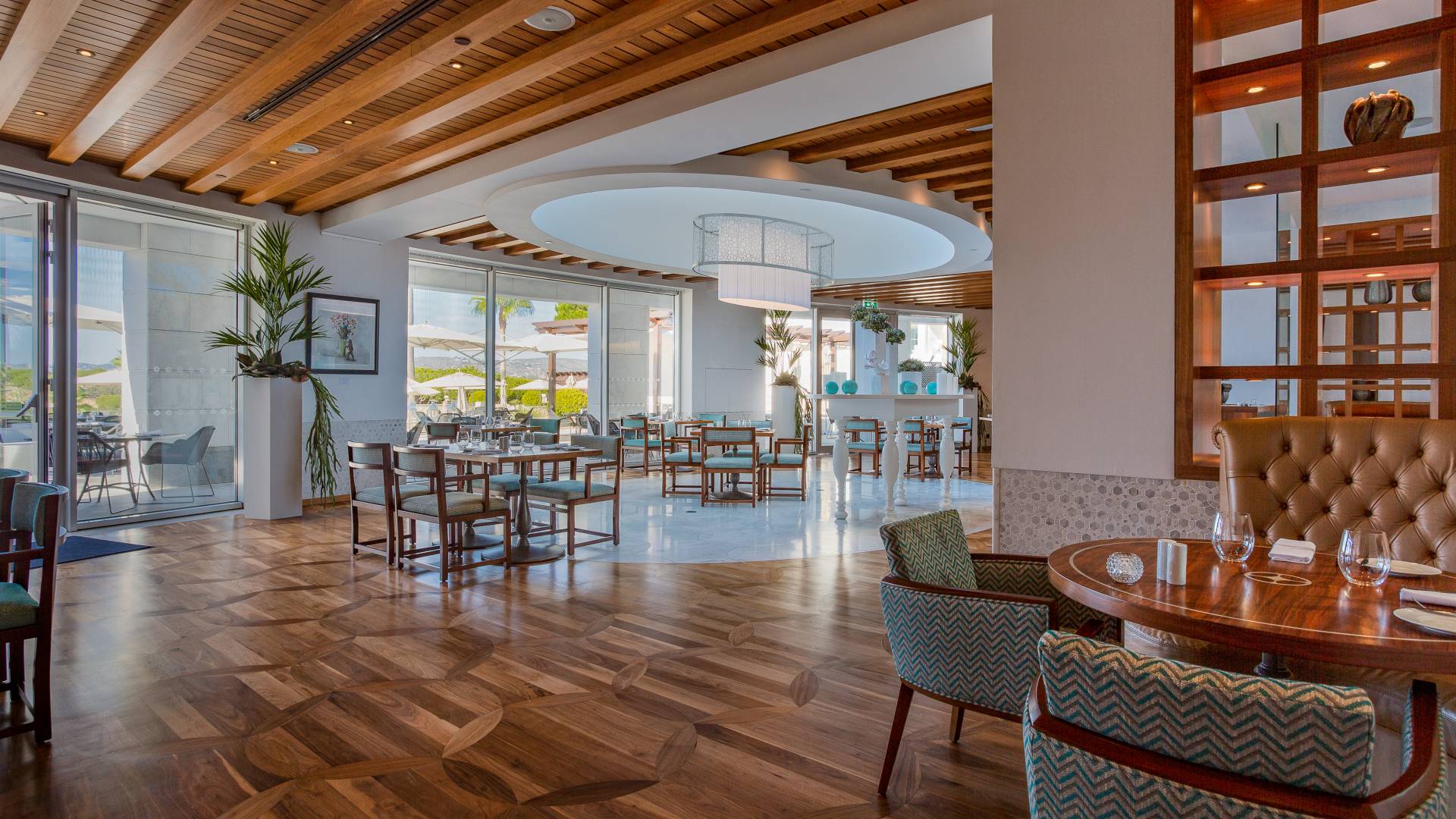 Experience a modern take on traditional Algarvian cuisine presented by Executive Chef Osvalde Silva. Explore fresh ingredients beneath a glass atrium or head outdoors for an intimate dining experience with an enclosed fireplace.
Opening Hours
Breakfast | 7 – 11 am
Lunch | 12 – 4 pm
Dinner | 6 – 10:30 pm
Louro Restaurant Menus
Snacks & Appetizers
Hummus
Chickpea hummus, sumac, and olive oil with flatbread
Tapenade
Olives, capers, anchovies, garlic, oregano, and toasted bread
Guacamole
Served with homemade nachos and pico de gallo
Garlic & Cottage Cheese
Homemade bread, garlic butter, cottage cheese, parmesan cheese, and herbs
Popcorn
Shrimp in panko, baby gem, spicy garlic, and mayonnaise
Soups
Organic Soup
Carrots, leek, pumpkin, sweet onion, and olive oil
Wild Gazpacho
Tomato, onion, cucumber, peppers, garlic, homemade bread, and sardines
Starters
Mussels
Mussels, peppers, tomatoes, onion, garlic, and coriander
Carpaccio
Thinly sliced beef loin, pumpkin seed pesto, island cheese, and mustard pickles
Ceviche
Chef ́s suggestion, avocado, red onion, lime, cucumber, coriander, chili, and sweet potato
Black Pork
Toasted bread, confit garlic mayonnaise, red Oxheart tomato, ham, cured cheese, and virgin olive oil
Oysters
Six oysters over ice, red wine vinegar, shallot, sea asparagus, seaweed butter, and rye bread toast
Spicy Prawns
Atlantic prawns, garlic, chili, bay leaf, orange, and gnocchi potatoes
Clams "Bulhão Pato"
Clams, garlic, white wine, lemon, coriander, and toasted bread
Poke Bowls
Chicken & Quinoa Bowl
Quinoa, chicken, tomatoes, sweet corn, pomegranate, zucchini, mushrooms, chili, rocket, cacao, and parmesan cream sauce
Roots Bowl
Spelt, edamame, tofu, hoisin, cherry tomatoes, arugula, pineapple, red cabbage, pumpkin seeds, and kewpie mayo
Rainbowl
Blueberry-cured salmon, quinoa, avocado, vegetables, fruits, salty granola and coconut milk, and orange blossom dressing
Salads
Algarvian Salad
Tomato, peppers, cucumber, red onion, and oregano with lemon dressing
"Sotavento" Salad
Fresh goat cheese, cherry tomatoes, peppers, nuts, cucumber, and oregano with lemon dressing
Octopus Salad
Octopus, peppers, lemon, red onion, garlic, and olive oil
"Pata Negra" Salad
"Pata Negra" ham, arugula, melon, figs, red onion, cured cheese, croutons, pomegranate, and olive oil
Market Fish
All dishes are served with roasted potatoes and a traditional Algarvian salad with your choice of sauce
Daily prices are according to the market
Butcher's Meat
Prepared on the grill, 250 grams per serving. All dishes are served with french fries and a tomato salad with red onion and your choice of sauce
Sauces
Beurre Blanc of Champagne and Lemon
Skewers
All dishes are served with french fries, or rice and tomato salad with red onion and your choice of sauce
Specialties to Share
Albacore Tuna
Tuna belly, onion, baked potato, chili, coriander, and lemon
Seafood Rice
Rice with monkfish, clams, shrimp, bisque, coriander, and lemon
Seafood Linguini
Linguini negro, lobster, tiger prawns, mussels, beef heart tomatoes, lemon, and basil
Side Orders
Traditional Algarvian Salad
Tomato and Red Onion Salad
Desserts
Stone Fruits
Stone fruits, Tahitian vanilla, yogurt, and organic lemon
Tropical
Mango, passion fruit, pineapple, and coconut
Pavlova
Meringue, cherry, dark chocolate, and orange blossom,
Cheesecake
Cream, goat cheese, guava, and lime
Brownie
Chocolate, dulce de leche, and Tahitian vanilla
Fruits
Selection of sliced fruits
Red Fruits
Bowl of fresh mixed berries
Scoop of Ice Cream
Choose from vanilla, strawberry, chocolate, coffee, orange blossom, or Oreo & strawberry
Scoop of Sorbet
Choose from strawberry, passion fruit, coconut & lime, or pineapple
Starters
Kumato
Brown tomato carpaccio, "requeijão" cheese, grilled gazpacho vinaigrette, and olives
Ceviche
Red tuna ceviche, avocado, red onion, lime, cucumber, coriander, chili, sweet potato, and tiger's milk
Land & Sea
Textures of galia melon, cured mackerel, muxama chips, fried capers, and Granny Smith apple juice
Bairrada
Confit suckling pig belly, Jerusalem artichoke, fried potato chips, and orange sour cream
Chili Prawns
Fried prawns with garlic and chili, potato gnocchi, orange gel, and salted granola
Ria Formosa
Ria Formosa clams served à Bulhão Pato with toasted garlic bread
Amar o Mar
Scarlet prawn, seaweed xerém, guanciale, Oscietra Caviar, and coriander gel
Mar i Monte
Ravioli with confit beef cheek, oyster tartare, seafood jus, and homemade pickles
Soups
Canja da Ria
Traditional gazpacho, braised sardine fillet, bread crust, and essence of mint
Fish & Seafood
Fish soup from our coast with seafood and Oscietra Caviar
Fish and Seafood
Sea Bass
Poached sea bass fillet, vegetable bulgur with almonds, crispy vegetables, and spicy dashi with ginger and turmeric
Codfish
Creamy codfish brandade, confit yolk, and a pipérade of three different olives
Tiger Prawns
Grilled tiger prawns (300 grams) in chili, basil leaves, and orange juice, served with basmati rice
Grilled Squid
Squid marinated in Chermoula, potato sticks, grilled vegetables, and Vierge sauce
Meats
Mediterranean Veal
Low-temperature veal chop (200 grams), oxtail fillet with walnut pastilla, asparagus, and sweet and sour jus
Lombo Angus
Steak (200 grams), confit potatoes, spinach coulis, small roasted vegetables, and truffle jus
Piri-Piri Guinea Fowl
Stuffed guinea fowl, grilled fresh vegetables, tomato and red onion salad, and french fries
Rack of Lamb
Marinated lamb chops, gnocchi with grilled vegetables, granola, and gazpacho jus
Desserts
Violet Cloud
Violet mousse, cake and lemon-lime panna cotta, white chocolate crunch, and feuilletine
Raspberry & Passion Fruit
Raspberry paté, passion fruit sorbet, white chocolate mousse, and biscuit
Classic Flavours
Crêpe dentelle, mousse, jam and strawberry gel, cream and vanilla sponge, brownie, and cream and chocolate ice cream
Tapioca
Coconut milk tapioca with lime zest, crunchy tapioca, banana brunoise, coconut gel, and açaí ice cream
O Algarve
Carob pudding, almond tile, citrus textures, and orange flower ice cream
Sliced Fruit
Selection of national and international sliced fruits
Red Fruits
Bowl of fresh mixed berries
Ice Cream & Sorbets
Selection of ice creams and sorbets by the scoop
Starters
Rainbow
Avocado, tomato, prawns, corn, and yogurt sauce
Italian Flag
Stuffed tomato, mozzarella, and light ketchup vinaigrette
Rubbik
Cucumbers, tomato, apple, beetroot, baby gem, with lemon vinaigrette
Croquette
Potato, spinach, turkey ham, cheese, and lettuce mix
Mains
Chicken
Grilled chicken with vegetables and mashed potatoes
Salmon
Grilled salmon with spinach and white rice
Burger
Beef burger, crispy chicken, or pan-fried fish with brioche bread, tomato, iceberg lettuce, french fries
Add cheese or fried egg for additional fee
Fillet
Fish fillet with vegetables and white rice
Grilled Steak
Beef steak with fried egg, lettuce mix, and french fries
Pasta
Spaghetti or penne with bolognese or tomato sauce with grated cheese
Margherita Pizza
Tomato sauce, mozzarella cheese, and cherry tomatoes
Add turkey ham and/or mushrooms for additional fee
Desserts
Strawberries & Oreo
Sliced strawberries with Oreo ice cream
Banana Split
Banana with hot chocolate and Chantilly
Chocolate Mousse & Smarties
Prices with VAT included at the legal rate – Louro Restaurant possesses a Complaints Book. Should you have special dietary requirements or allergies, or any questions regarding our ingredients, please consult a member of staff.
Louro Restaurant