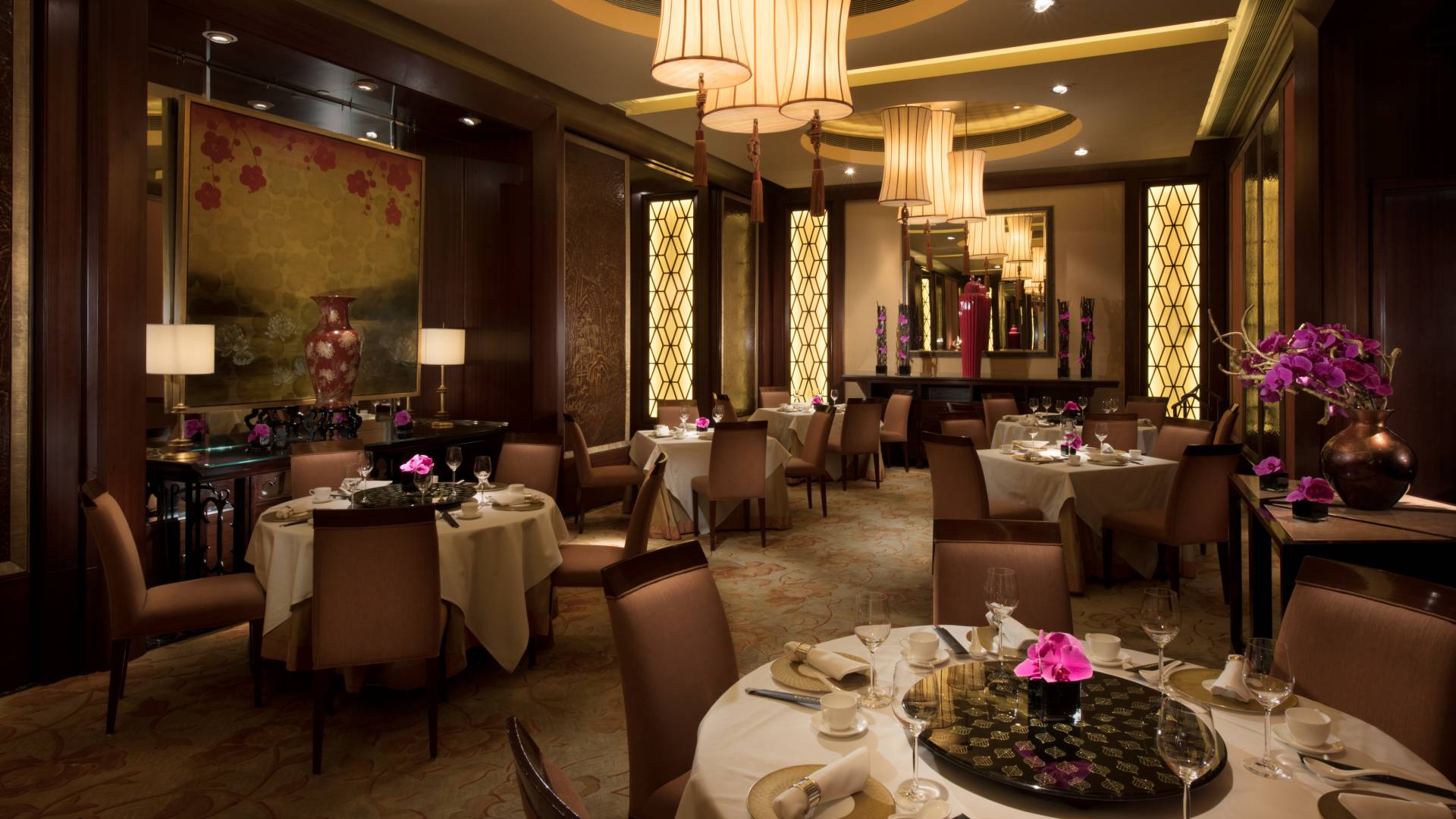 Step into the elegant Golden Leaf for authentic Cantonese favourites. The understated atmosphere features carved teak and rosewood furnishings complimented by Chinese antiques.
Classic Cantonese Cuisine
Helmed by Executive Chef Tony Wan, our menu honors Cantonese culinary traditions.
Visit for dim sum and set lunch. For dinner, explore the extensive à la carte menu for barbecued specialties, noodles, rice, and more.
Private Dining
Celebrate in style at Golden Leaf. Three private dining rooms are available for a maximum of 12 to 16 guests.
Lunch
11:30 am – 3 pm Monday – Saturday
11 am – 3 pm Sunday
Dinner
6 – 11 pm daily
Menus
Chef's Signature Lunch
Dim Sum Platter
Steamed shrimp dumpling, steamed pork dumpling with abalone, deep-fried spring roll with prawn, steamed scallop dumpling with purple potatoes
Bird's nest simmered in minced chicken soup
Baked crab meat with onion served in crab shell
Sautéed fillet of garoupa with pumpkin in barbecue sauce
Poached seasonal vegetables with bamboo pith in superior broth
Sweetened almond cream with egg white
Business Lunch Menu
Deluxe Appetizers
Pan-fried mixed vegetables rolled with dried bean curd skins and sliced pork belly rolls in garlic sauce
Double-boiled bamboo pith soup with brassica, Chinese mushrooms, and Yunnan ham
Sautéed fillet of sole with fresh lily buds and greens
Sautéed king prawns with pineapple and hawthorn herbs in chili sauce
Yeung chow style fried rice with barbecue pork, shrimp, and preserved vegetables
Chilled fresh mango pudding
Appetisers
Jellyfish with sliced drunken chicken
Sliced pork rolls with cucumber and garlic sauce
Jellyfish tossed with spring onion and sesame oil
Marinated sliced beef shank with Chinese wine
Layered pig's ears marinated with oriental spices
Sautéed diced beef with spicy salt
Deep-fried diced bean curd with garlic salt
Pan-fried mixed vegetable rolls in dried bean curd skin
Barbecued Specialties
Roasted whole Peking duck
Roasted crispy duck served with plum sauce
Barbecued meat platter with suckling pig
Cold pigeon marinated with rice wine
Marinated chicken in soy sauce
Barbecued pork glazed with queen's honey
Soups
Braised minced partridge porridge with bird's nest
Hot and sour piquant soup with seafood
Double-boiled clear broth with bamboo piths, black mushroom, and brassica
Braised minced beef soup with egg white and crab meat
Double-boiled chicken soup with fresh ginseng and snow fungus served in bamboo
Sweet corn soup with crab meat and egg white
Double-boiled clear broth with shrimp dumplings and bamboo piths
Bird's Nests and Bamboo Piths
Braised superior bird's nest with crab meat and crab roe
Steamed shredded abalone, Chinese mushroom, Yunnan ham, and seasonal vegetables stuffed in bamboo piths
Braised superior bird's nest with pigeon eggs
Pan-fried bird's nest with egg and crab meat
Steam bamboo piths with superior bird's nest
Bird's nest simmered in minced chicken soup
Braised superior bird's nest soup with fresh crab meat
Abalone
Braised whole abalone in oyster sauce
Braised sliced abalone with goose webs
Braised fish maw, Chinese mushrooms, and sliced abalone in clay pot
Sautéed dried Kanto sea cucumber with spring onion
Braised sliced abalone with sea cucumber and seasonal vegetables
Braised sea cucumber with shrimp roe
Selection Seafood
Live fish
Pink garoupa, green wrasse, spotted garoupa
Fresh prawns
Drunken in Chinese wine, steamed with garlic, baked with spicy salt, poached with tangerine peel and diced vegetables in clear essence, or pan-fried with soy sauce
Live crab
Steamed in Chinese wine, baked with spicy salt, baked with ginger and spring onion, or steamed with minced garlic
Live lobster
Baked with superior essence, baked with ginger and spring onion, steamed with minced garlic or sashimi
Fish & Seafood Favourites
Sautéed fillet of spotted garoupa with sweet and sour sauce
Pan-fried scallops stuff with minced shrimps in superior broth
Sautéed king prawns with chili and barbecue sauce
Steamed fresh crab claw with minced ginger and rice wine
Sautéed king prawns with pineapple and hawthorn herbs in chili sauce
Braised eggplant with minced shrimps and chili sauce
Sautéed fillet of garoupa with pumpkin in barbecue sauce
Sautéed prawns with vermicelli, ginger, and spring onion in clay pot
Sautéed fillet of sole with asparagus in black bean sauce
Sautéed sliced sea whelk with Yunnan ham and seasonal vegetables
Sautéed prawns with pineapple and pine nuts
Deep-fried prawns stuffed with scallops and minced shrimp
Baked crab meat with onion served in crab shell
Poached fillet of sole with dried shrimp and preserved vegetables in clear broth
Baked sea whelk stuff with diced seafood, abalone, chicken, and onion
Vegetarian Dishes
Sautéed fresh asparagus with bamboo piths
Braised dried bean curd and chili sauce
Stewed mushrooms and fungus with bamboo piths
Sautéed mixed vegetables with sliced lotus roots in potato nest
Braised superior vegetables with sliced bean curd
Braised diced vegetable soup with mushrooms and sweet corn
Sautéed diced mushrooms with water chestnut, pine nuts, and ginkgo
Vegetables
Braised twin vegetables with fresh crab meat and Yunnan ham
Poached baby white cabbage with sliced Yunnan ham and superior broth
Assorted dried seafood and mixed vegetables and superior broth in clay pot
Braised bean curd with mushrooms in oyster sauce
Stewed twin vegetables with sliced bean curd and ginkgo
Sautéed string beans with preserved vegetables
Chicken
Poached chicken with superior chicken broth
Baked sliced chicken with black bean sauce in clay pot
Shallow-fried crispy chicken
Sautéed diced chicken with walnuts and chili sauce
Braised chicken with preserved vegetables in clay pot
Poultry
Sautéed sliced pigeon with lily buds and black bean sauce
Poached whole pigeon in soy sauce
Stir-fried minced pigeon and bamboo shoots served with lettuce
Roasted whole crispy pigeon
Pork
Sautéed pork with spring onion and ginger
Baked spare ribs with spicy salt
Baked spare ribs with brown vinegar
Minced pork with stewed eggplant in clay pot
Sautéed diced pork with fresh asparagus in XO sauce
Braised spare ribs with Chinese herbs
Sweet and sour pork with pineapple and bell peppers
Beef
Braised beef ribs with turnips
Chinese style wok-fried beef tenderloin
Sautéed diced beef with fresh asparagus and macadamia nuts
Braised bean curd with minced beef and chili sauce
Pan-fried fillet of beef with black pepper and honey
Stir-fried sliced beef rolls with enoki mushrooms in oyster sauce
Noodles
Fried rice noodles with shredded chicken and abalone
Braised noodles with abalone sauce
Fried noodles with assorted seafood
Braised E-Fu noodles with shredded conpoy and enoki mushrooms
Fried rice noodles with prawns in black bean and chili sauce
Poached noodles with shredded fish in fish soup
Braised E-Fu noodles with mushrooms in truffle paste
Rice
Fook Kin-style fried rice with shredded conpoy
Fried rice with shredded conpoy, egg white, and spring onion
Fried rice with minced beef in shrimp paste
Fried rice with cuttlefish and dried chicken in abalone sauce
Pan-fried turnip cake with egg, onion, bean sprouts, and minced pork
Yeung Chow-style fried rice with barbecue pork, shrimp, and preserved vegetables
Golden Leaf