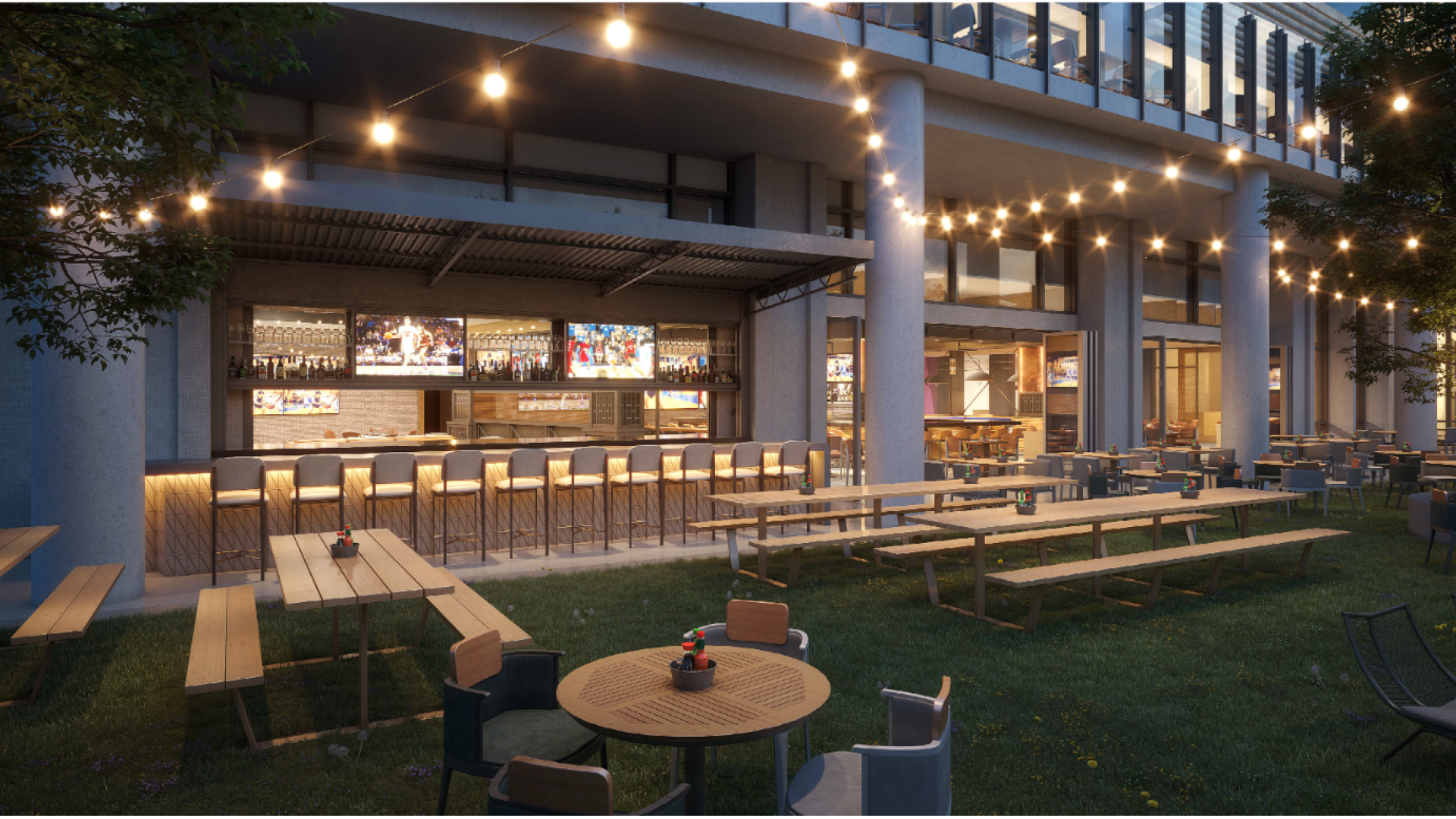 The spot in Orlando to watch the game! Whether you grab a seat at the indoor bar, or the outdoor biergarten, you won't miss moment of the action. Fastbreak serves up all-American fare as well as a vast drink menu featuring a variety of beers on tap.
Open Daily

Breakfast – 7 am – 11 am
Lunch – 11 am – 4 pm
Dinner – 4 pm – 10pm
Menu
Breakfast
served with your choice of coffee, tea or juice
Greek yogurt, macerated berries, housemade granola, served with today's freshly baked muffin
with market fruit, brown sugar, raisins
ham, potatoes with side of toast
Full Court Press
served with your choice of toast
two cage-free eggs, your choice of applewood-smoked bacon, turkey links or grilled ham, breakfast potatoes
three cage-free eggs, served with breakfast potatoes CHOOSE ONE: Swiss, mozzarella, feta, cheddar CHOOSE THREE: roasted peppers, spinach, tomatoes, asparagus, mushrooms, melted onions, ham, pork sausage, applewood-smoked bacon
feta, roasted mushrooms, heirloom tomato, avocado, fruit salad
FULL BREAKFAST BUFFET AVAILABLE
Special Teams
Homemade Corned Beef Hash
19
brined & braised corned beef, Yukon Gold potatoes, thyme, two eggs your way
two over-easy eggs, grilled ham, avocado, tomato, everything bagel seasoning, special sauce, brioche bun
Tailgate
Casamigos blanco tequila, grapefruit juice, ginger beer
Captain Morgan Original Spiced Rum, orange & pineapple juices, grenadine
Hudson short stack maple rye whiskey, J.F. Haden's espresso liqueur, chocolate bitters & orange bitters, orange peel
St. Augustine Maple Sour
19
St. Augustine Florida straight bourbon, lemon, bourbon barrel-aged maple syrup, blackberry bourbon jam, applewood-smoked bacon
Riondo prosecco, choice of orange, strawberry or peach
Batter Up
macerated berries, maple bourbon syrup, whipped butter, choice of applewood-smoked bacon or sausage
macerated berries, maple butter, choice of fapplewood-smoked bacon or sausage
Press Box
multigrain bread, crushed avocado, cucumber, heirloom tomato, radish, everything bagel seasoning
ADD POACHED EGGS* • $5
served with Key lime yogurt dipping sauce
fresh seasonal fruit compote, local honey, mint, homemade granola
cream cheese, capers, pickled red onion, tomato, hard-boiled egg, arugula, sesame bagel
choice of Bran Flakes, Cheerios, Shredded Wheat or Froot Loops, choice of milk
ADD BANANA • $2.50 ADD BERRIES • $2.50
Off-Sides
Toasted Sesame Bagel & Cream Cheese
4
choice of whole wheat, white, sourdough, rye or English muffin
Refreshments
Brewed Coffee
regular and decaf
4
Tea Leaves Hot Tea
English breakfast, Earl Grey lavender, green, oolong, peppermint, chamomile
4
Florida's Choice Orange Juice
7
Juice
grapefruit, apple, cranberry or tomoato
5
Milk
regular, 2%, skim, chocolate milk, almond, oat or soy
4
S. Pellegrino Sparkling Water - 750ml
10
Coke, Diet Coke, Sprite, Root Beer or Ginger Ale
4.50
Red Bull & Red Bull Sugarfree - 8.4 oz.
8
Unsweetened Iced Tea with Lemon
6
*CONSUMING RAW OR UNDERCOOKED MEATS, POULTRY, SEAFOOD, SHELLFISH OR EGGS MAY INCREASE YOUR RISK OF FOODBORNE ILLNESS, ESPECIALLY IF YOU HAVE CERTAIN MEDICAL CONDITIONS.
oven-melted cheese, herb butter, grilled French baguette
Maryland crabmeat, tarragon, chives, smoked Maldon salt
cheddar cheese sauce, sour cream, scallions, roasted poblano peppers ADD: crispy pork belly, pulled chicken or bbq brisket +$3
parmesan cheese, fines herbes, marinara sauce, mustard
comeback and horseradish sauce
smoked Fred Stokes sausage, corn dog muffin, chicken kielbasa, smoked brisket, pretzel bread, bourbon mustard
caramelized onions, smoked gouda cheese pimento dip, house mustard
On the Green
Add: Grilled Chicken $5, Mahi $7.
rattlesnake beans, toasted baguette, cilantro, avocado
mixed greens, quinoa, tomato, cucumber, fennel, sherry vinaigrette
Fried Chicken Cobb Salad
18
tomato, applewood-smoked bacon, eggs, avocado, blue cheese, buttermilk dressing
yellowfin tuna, brown rice, edamame, cucumber, shaved red onion, seaweed salad
croutons, parmesan cheese, creamy Caesar dressing
Main Event
challah French toast, spicy buttermilk chicken, bacon and maple butter
pan-roasted market fish, seafood stew, roasted pepper sofrito
crushed truffle fingerling potatoes, Brussels sprouts, steak butter
jalapeño mac & cheese, coleslaw, house-made BBQ sauce
beer-battered whitefish, fries cole slaw
Double Play
American cheese, griddled onions, special sauce, lettuce
smoked pimento cheese, peppered applewood-smoked bacon, shredded lettuce, tomato
cheddar cheese, fried cage-free egg, crispy applewood-smoked bacon, bourbon sauce
Gruyère cheese, grilled wild mushroom, black pepper aioli
sharp cheddar, smoked brisket, BBQ sauce, caraway coleslaw
vegan patties, crushed avocado, baby arugula, sun-dried tomato
double-patty burgers are all-natural angus beef, chargrilled, served on a toasted brioche bun with fries and Liv's pickles
Knuckle Sandwiches
served with fries
fried buttermilk chicken, dill pickles, shredded lettuce
corned beef, Gruyère cheese, kraut, horseradish, onion au jus
pepper jack cheese, pikliz slaw, tomato, remoulade sauce
fred Stokes sausage, pretzel roll, bourbon bbq griddled onions
Off-Sides
Corn Dog Muffin Poppers
10
house-made corn muffins with smoked sausage
Wing It
Served with carrots, celery, ranch or blue cheese SAUCES • Buffalo, Carolina gold, Korean BBQ, Kansas City BBQ, garlic parmesan, mango habanero, DRY RUB • salt & pepper, ranch, Nashville hot, Jamaican jerk
Cocktails
Patrón silver tequila, Grand Marnier, Key lime juice, orange juice, local honey
Ketel One Botanical peach & orange blossom, lime juice, ginger syrup, club soda
Bacardi Gold rum, cream of coconut, pineapple juice
Horse Soldier straight bourbon, Cointreau, lemon juice, tangerine juice
St. Augustine vodka, unsweetened iced tea, lemonade, mint syrup
Knob Creek bourbon, grapefruit juice, orange juice, honey syrup
Manifest Florida botanical gin, pineapple juice, ginger syrup, cucumber, basil
Myers's platinum rum, blueberry, raspberry, strawberry, lime, mint, simple syrup, club soda
Refreshments
Lemonade or Iced Tea
$6, pitcher $14
Arnold Palmer
$6, pitcher $14
Level Up
peachy king, minty me, strawberry-basil
3
Brewed Coffee
regular and decaf
4
Tea Leaves Hot Tea
English breakfast, Earl Grey lavender, green, oolong, peppermint, chamomile
4
S. Pellegrino Sparkling Water 750ml
10
Coke, Diet Coke, Sprite, Ginger Ale, Root Beer
$4.50, pitcher $14
Red Bull or Red Bull Sugarfree 8.4 oz
8
Simple Shakes
chocolate • vanilla • salted caramel •strawberry cheesecake orange creamsicle
10
Make it Boozy
dark rum, Kahlua, bourbon, or tequila
$6 per shot
Family Day - $65 (Serves 4 players)
Served with bread & butter pickles, hot sauce and mustard & includes bottomless pitcher of soda, iced tea or lemonade
Wines
Prosecco, Riondo
DOC, IT
12 - n/a - 48
6 oz. - 9 oz, - Bottle
Veuve Clicquot, Yellow Label Brut
Reims, FRA
30 - n/a - 119
6 oz. - 9 oz, - Bottle
Pinot Grigio Terlato Family
Colli Orientali Del Friuli, IT
14 - 20 - 56
6 oz. - 9 oz, - Bottle
Pinot Noir Davis Bynum
Russian River, CA
19 - 25 - 76
6 oz. - 9 oz, - Bottle
Sauvignon Blanc Wairu River
Marlborough, NZL
12 - 18 - 48
6 oz. - 9 oz, - Bottle
Chardonnay Sonoma-Cutrer
Russian River, CA
20 - 26 - 80
6 oz. - 9 oz, - Bottle
Chardonnay Decoy by Duckhorn
Sonoma, CA
12 - 18 - 48
6 oz. - 9 oz, - Bottle
Rose Fleur De Mer
Côtes De Provence, FRA
15 - 21 - 60
6 oz. - 9 oz, - Bottle
Pinot Noir Tavola Ponzi Vineyard
Williamette Valley, OR
18 - 24 - 72
6 oz. - 9 oz, - Bottle
Malbec, Bodega Norton Select
Mendoza, ARG
13 - 29 - 52
6 oz. - 9 oz, - Bottle
Cabernet Sauvignon Columbia Crest H3
Horse Heaven Hills, WA
12 - 18 - 48
6 oz. - 9 oz, - Bottle
Cabernet Sauvignon Daou Vinyards
Paso Robles, CA
17 - 23 - 68
6 oz. - 9 oz, - Bottle
Red Blend The Prisoner
Napa Valley, CA
27 - 33 - 108
6 oz. - 9 oz, - Bottle
*CONSUMING RAW OR UNDERCOOKED MEATS, POULTRY, SEAFOOD, SHELLFISH OR EGGS MAY INCREASE YOUR RISK OF FOODBORNE ILLNESS, ESPECIALLY IF YOU HAVE CERTAIN MEDICAL CONDITIONS
USA

/

FastBreak