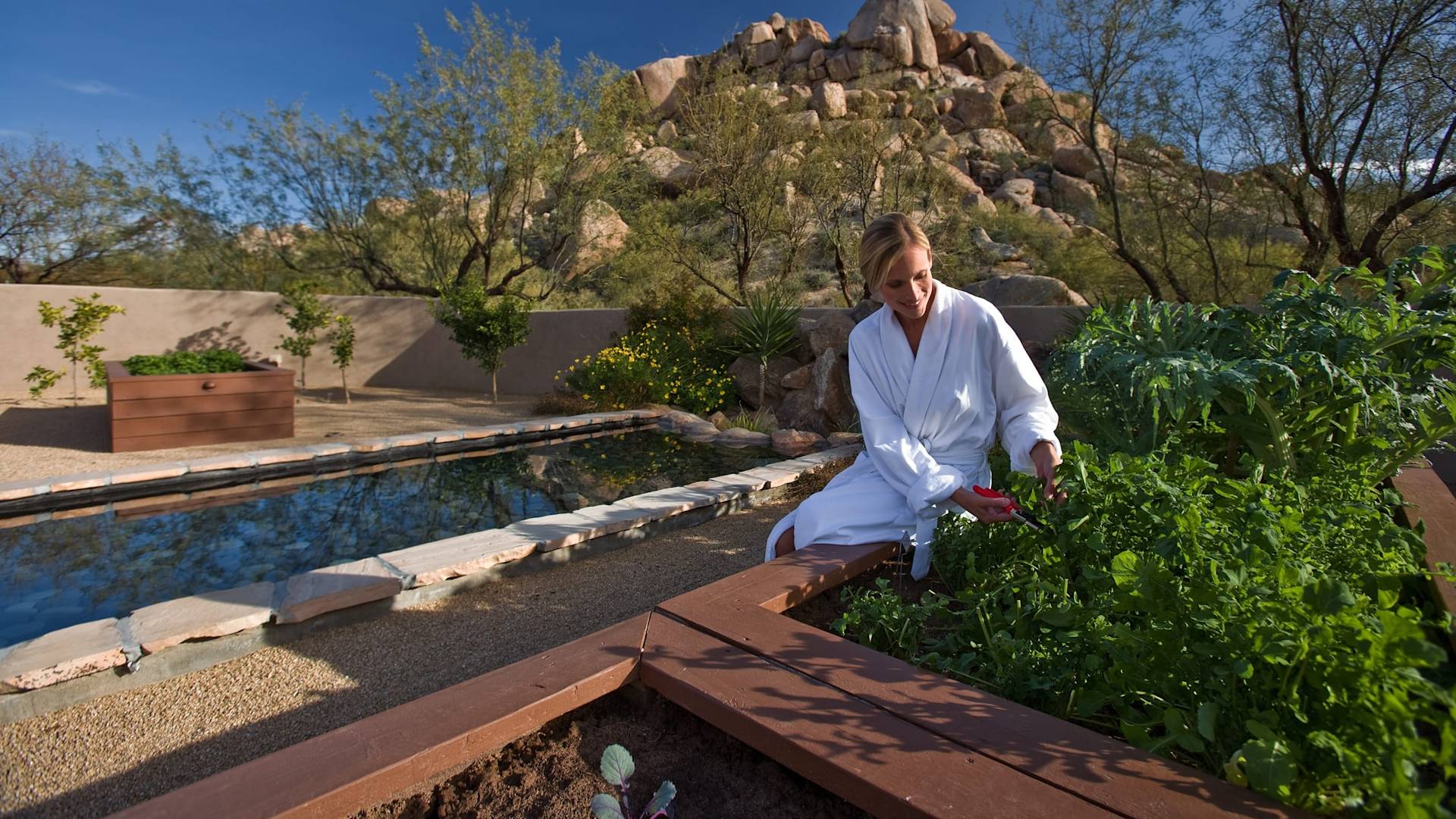 Revive body and spirit on a wellness journey in the sun-soaked Sonoran Desert. Indulge in some self-care with spa treatments, personal training, and group classes in the fitness center.
Explore the Spa
1.5-billion-year-old boulders form a backdrop to the spa campus that features 33,000 sq. ft. of facilities that include 24 treatment rooms, a spa café and learning center. Outside you'll find a shamanic tipi, meditation labyrinth, pool and whirlpool, organic garden and reflecting pond.
Reservations open daily from 9 am to 4 pm (Spa Front Desk open 8 am to 6 pm)
Spa Services
Relaxing spa therapies include massages, facials, hot stones, aromatherapy, Watsu, and body treatments.
Signature Spa Experiences
Create your own spa journey or choose from our unique signature experiences. Designed to embrace ancient traditions and rituals, massages and facials cleanse to the body and rejunvenate the mind. Indulge in Ayurvedic massages with locally sourced clay or a signature Swedish massage incorporating scents of citrus and jasmine.
Spa Café
Complete your spa journey with a healthy meal. Menus are designed to deliver fresh, locally-sourced, spirit-satisfying meals for everyone – including vegetarians, vegans, and people with special dietary needs. Open Wednesday – Sunday 8 am – 3 pm for beverage service and a limited food menu.
Call the Café
Spa Boutique
Our spa boutique offers the latest in skin and body care products as well as workout, lounge, and swim wear.
Fitness Center
Enhance your fitness and replenish your energy at our fitness center. Tone those muscles with a variety of cardiovascular and weight training equipment, fitness classes, and personal training programs. The fitness center is open from 7 am to 6 pm daily, locker amenities and pool 8 am to 5 pm daily.
Group Fitness
Join us for energetic Zumba sessions, restorative yoga classes, and a variety of classes designed to help you move with intention.
Personal Training
Focus on fitness with one-on-one training from our certified trainers. Improve your sport performance with Unparalleled Personal Training for Functional Movement, strengthen your core and improve your balance with Pilates, and incorporate breath into your movement with yoga.
Health Coaching
In this 80-minute session you'll receive a heart health assessment: a full evaluation of your diet and fitness, body fat percentage, and blood pressure. Our health coach and personal trainer will assess your cardiac risk and help you to understand the importance of lifestyle to help you live a long healthy life.
Spa & Fitness
Massages
Desert Zen
Our signature Swedish inspired massage incorporates hot towel compress and light/smooth strokes which can be tailored to your specific needs.
50 mins $185 | 80 mins $270
Reflexology
An ancient Chinese technique of pressure point massage on the feet to restore the flow of energy throughout the entire body while alleviating stress and reclaiming balance
50 mins $185
Arnica Therapeutic
Combining a firmer touch with a variety of massage techniques, this massage can deliver detailed muscle work and satisfy the desire for a deep tissue massage. Arinca oil helps to reduce discomfort and soothes inflammation.
50 mins $195 | 80 mins $280
Couples
Enjoy an uplifting Swedish massage side by side with a companion in one of our Spa suites as two therapists customize your massage towards each guest's specific needs. Arnica upgrade is also available.
50 mins $385 | 80 mins $550
Boulders Stone
The stones are pre-warmed and their radiant heat together with gentle massage techniques help ease knotted muscles and bring relief from tension. This massage creates a relaxing and grounding experience.
75 mins $275
Pre-natal
The massage will relieve tension in focus areas including the lower back, feet and legs and is designed to uplift the mother-to-be. It is typically enjoyed in the second or third trimesters.
50 mins $185 | 80 mins $270
Hawaiian Lomi-Lomi
A traditional Hawaiian healing massage embraces you with rhythmic, flowing strokes of the hands and forearms which is deeply relaxing and soothing for the muscles.
50 mins $195 | 80 mins $285
Enhancements
Aromatherapy enhancement
Your choice of a wide variety of blended oils to enhance your senses
$20
Serenity scalp massage
A warm oil deeply relaxing treatment that helps release tension, moisturize and bring a shine to the hair
25 mins $70
Specialized Treatments
Acupuncture
In traditional Chinese medicine it can be a blockage of qi (energy) that causes pain, stress, anxiety, and illness. This is a medical treatment performed by licensed acupuncturists placing small needles in specific points on the body. This helps to promote the proper flow of qi to assist the body in healing.
50 mins $205
Acussage
Acussage is a combination of acupuncture and massage personalized for the symptoms the guest needs addressed. The acupuncture targets the energy of the internal organs while the massage relieves the muscles. This way the healing comes from a deep, internal area as well as a more superficial healing with muscle manipulation.
80 mins $290
Thai
Wear your comfortable fitness clothing and enjoy this deeply relaxing and rejuvenating traditional Thai treatment. This is offered on either floor mat or table. A cross between yoga, acupressure, and zen shiatsu. Our skilled therapists use slow rhythmic compressions and stretches along the body's energy lines to soften and relax your body in order to release the flow of energy.
50 mins $205 | 80 mins $295
Body Treatments
Avocado Citrus Splash
Enjoy a body polish with grapefruit and jasmine infused sugar. Your skin is revitalized, soothed by a Vichy shower and finished with a warm avocado oil to soften and deeply nourish the skin.
50 mins $185
Essential Escape Wrap
This personalized wrap starts with a dry brush, followed by an herbal mix with your choice of blended oil. You are wrapped and enjoy a soothing scalp massage, a Vichy shower and then finished with an application of healing and restoring cream. Relaxing, detoxifying, and hydrating.
50 mins $205
Desert Rose Radiance
A Jojoba and Desert Rose exfoliation is followed by a Vichy shower and soothing aloe mask particularly beneficial for dry skin. Wrapped to maintain warmth whilst the mask penetrates you enjoy an uplifting facial massage with prickly pear and pomegranate finishing with a hydrating application of Desert Rose Shea Butter creme.
80 mins $265
Advanced Skin Care
Organic Signature
Custom facial personalized for the unique needs of your skin, this treatment is for all skin types and uses a range of organic products designed to deliver ingredients deep into the skin.
50 mins $185 | 80 mins $270
Vitamin C
A powerful anti-aging treatment utilizing Beyond Complex-C an antioxidant mask which gives a wonderful toned, glowing skin.
50 mins $195 | 80 mins $280
Jade Stone
This facial ritual uses the beneficial effects of gentle jade stone massage for lymphatic drainage to create a healthy, youthful appearance. Aromatherapy us combined to create a wonderful experience for your senses.
50 mins $195
Therapeutic Oxygen Infusion
Therapeutic oxygen under hyperbaric pressure infuses a special serum while gently exfoliating the skin to add volume, improve skin tone and texture, and reduce fine lines.
50 mins $250 | 80 mins $325
Hydrafacial
A dramatic resurfacing treatment includes a vortex-infusion of antioxidants, peptides, and hyaluronic acid. Delivers results which are immediately visible. Customize and use Hydra Perk Add Ons for specific areas you wish to improve (see below)
50 mins $270 | 80 mins $385
Facial Add-Ons
Instant Ultra Eye Lift
Rapidly de-puffs tired eyes and diminishes dark circles.
$35
Dermaflash
Instantly exfoliates dead skin cells and removes facial hair, safely and gently.
$35
Instant Ultra Smooth Lips
Smooths, tightens, and plumps leaving a soft silky sheen.
$35
Hydrafacial Perks
Available to combine with your Hydrafacial
Eyes $55 | Lips $55 | Neck $75 | Decolletage $95
January 2023
All classes are 50 minutes unless noted.
Masks are optional. Class size is limited.
Sign In at the classroom.
*Class takes place in the Yoga Studio
All other indoor classes are located in the Movement Studio.
Sunday
9:00 am
*All Levels Yoga with live music (Jenny)
80 minutes
10:30 am
*Restorative Yoga with live music (Jenny)
80 minutes
Monday
7:05 am
Total Body Conditioning (Tracy)
8:00 am
*Sonoran Stretch (Kathy)
8:00 am
Core & More (Tracy)
9:00 am
TRX (Kathy) (Limited Space)
10:30 am
*Gentle Yoga (Kathy)
80 minutes
3:00 pm
Orange Whip Golf (Bart)
Tuesday
7:30 am
Indoor Cycle (Karen)
8:00 am
*Sonoran Stretch (Kathy)
9:00 am
Mind & Muscle (Kathy)
10:00 am
*Foam Roller (Kathy)
11:00 am
*Flow & Ignite Yoga (Kathy)
Wednesday
8:00 am
*Sonoran Stretch (Karen)
8:00 am
Total Body Conditioning (Kathy)
9:00 am
Power Walk (Karen)
10:00 am
Golf Fitness (Bart)
10:30 am
*Gentle Yoga (Kathy)
80 minutes
10:30 am
Water Fitness (Karen)
Thursday
7:05 am
Core & More (Gina)
8:00 am
*Sonoran Stretch (Kathy)
8:00 am
Buns, Legs and Tummy (Gina)
9:00 am
Mind & Muscle (Kathy)
10:00 am
TRX (Gina) (Limited Space)
12:00 pm
Gym Equipment Training (Bart)
01/19 only
Friday
7:30 am
Basic Barre (Alyssa)
8:00 am
*Sonoran Stretch (Kathy)
10:00 am
Golf Fitness (Bart)
10:30 am
*Gentle Yoga (Kathy)
80 minutes
10:30 am
Water Fitness (Karen)
12:00 pm
Mat Pilates (Kathy)
3:00 pm
Line Dancing (Kathy)
01/13 and 01/27
Saturday
8:00 am
Indoor Cycle (Alyssa)
9:00 am
*Yin Yoga (Andie)
80 minutes
9:00 am
Cardio Super Ignite (CSI Boulders) (Alyssa)
10:00 am
*Sonoran Stretch (Alyssa)
Mvmt.Studio
10:30 am
*Vinyasa Yoga (Andie)
50 minutes
All classes and lectures are complimentary and are 50 minutes in length, unless otherwise noted. SUBJECT TO CHANGE ANY TIME. For a fee - Private sessions are available in Strength Training, Yoga, and Pilates. Any activity can be scheduled on a private basis or private group by calling 480-595-3500. For your safety and for the courtesy of other guests, classes are closed 5 minutes after their scheduled start time.
All classes have separate sign in sheets in or at the classroom
BASIC BARRE
This is a toning, body– weight lifting class. Targeting the deeper muscles in the body. This class incorporates mats, weights and various other equipment chosen by the instructor. Higher reps/lower weights.
BALANCE & MOBILITY TRAINING
Improve your balance, reduce the risk of falling. increase functional strength and mobility. Core components of each class include center of gravity control, postural strategy training, gait pattern enhancement, strength and flexibility training. Have fun while learning balance skills that will allow you to live your life to the fullest. This class is geared for those that are very deconditioned and have a fear of falling during normal activity.
BLT
A workout for the glutes, legs and abs (Buns, Legs and Tummy). Core work is included!.
CORE & MORE
Core conditioning exercises, low back strengthening moves and a deep stretch to condition the body's power house.
CSI BOULDERS
Cardio Super Ignite. Ignite your muscles and raise your heart rate and oxygen levels! Cardio and some muscle/weights may be used.
TBC (TOTAL BODY CONDITIONING)
Using resistance bands, body bars, handheld weights and fitballs, you will tone and sculpt your major muscle groups in this all level class. Stretching is included to complete this total body workout.
FOAM ROLLER
This class utilizes the foam roller to work on the core, stretch and roll the fascia.
GENTLE YOGA
Focus is on breath, releasing deeper tissues, and increasing pelvic and core strength, suitable for all levels. May include relaxation and meditation.
GYM EQUIPMENT INSTRUCTION
Meet in the Spa Gym.
GUIDED POWER WALK
This is a guided 50 minute brisk walk through the Boulder's Resort. Meet in the lobby.
INDOOR CYCLING
Cycle within your optimal heart rate zone to improve your Basal Metabolic Rate. Have fun as you burn calories. A great workout for beginners as well as advanced cyclists. This class
GOLF FITNESS
-Powered by Orange Whip Change your body. Change your ball flight. This class will focus on increasing flexibility and strength, enhance coordination, and perfect a balanced tempo within your golf swing.
MAT PILATES
A method of body conditioning focusing on core muscle strength, flexibility, stretch, and body alignment
MAT PILATES PLUS
Uses foam rollers, magic circles and bands which enhance the exercises of the Pilates Mat Class.
MIND & MUSCLE
This 50-minute systemic cardio workout combines upper body strength with lower body movements to provide maximum fat-burn -designed for all fitness. Fitness shoes are a must!
RESTORATIVE YOGA
Gentle, rejuvenating, relaxing yoga postures with an emphasis on Pranayama practice.
SONORAN STRETCH
A combination of static and rhythmic movements designed to increase flexibility and stability for improved range of motion
TAI CHI
Tai Chi strengthens the weak, raises the sick, invigorates the debilitated, & encourages the timid. For all levels. Tai chi, short for T'ai chi ch'üan or Tàijí quán, is an internal Chinese martial art practiced for both its defense training, its health benefits and meditation
TRX SUSPENSION TRAINING
TRX Basic Training is your introduction to the fundamentals of TRX Suspension Training bodyweight exercise. The program builds strength, balance, flexibility and burns fat. You control how easy or hard you want to work. Whether you are a professional athlete or just want to get back into shape, the TRX will help you reach your fitness goals.
FLOW & IGNITE / VINYASA YOGA
A vigorous workout for the experienced yoga practitioner or athlete. Emphasizing movement, strength, and focus; a high intensity flow sequence combined with advanced postures provides for an exhilarating 50 minute class.
YIN YOGA
Appropriate for all levels, Yin Yoga focuses on the connective tissue, tendons, ligaments, bones and joints. Holding specific postures to create suppleness in these areas also allows for inner focus and stillness; a healthy balance to the rigors of daily life.
WATER FITNESS
A great water workout for all fitness levels in the open-air Spa pool, this class emphasizes cardiovascular fitness, toning and flexibility with the use of dumbbells and noodles. Sunglasses, hat, and sunscreen are recommended.
ZEN
A gentle, relaxing Stretch.
ZUMBA
Zumba is a fusion of Latin and International motivating music combined with unique dance and fitness moves. The fast and slow rhythms of the intervals burns calories while the sculpting movements tone and shape your body. This class can be a high intensity, calorie burner!
All classes and lectures are complimentary and are 50 minutes in length, unless otherwise noted. SUBJECT TO CHANGE ANY TIME. For a fee - Private sessions are available in Strength Training, Yoga, and Pilates. Any activity can be scheduled on a private basis or private group by calling 480-595-3500. For your safety and for the courtesy of other guests, classes are closed 5 minutes after their scheduled start time.
USA

/

Spa