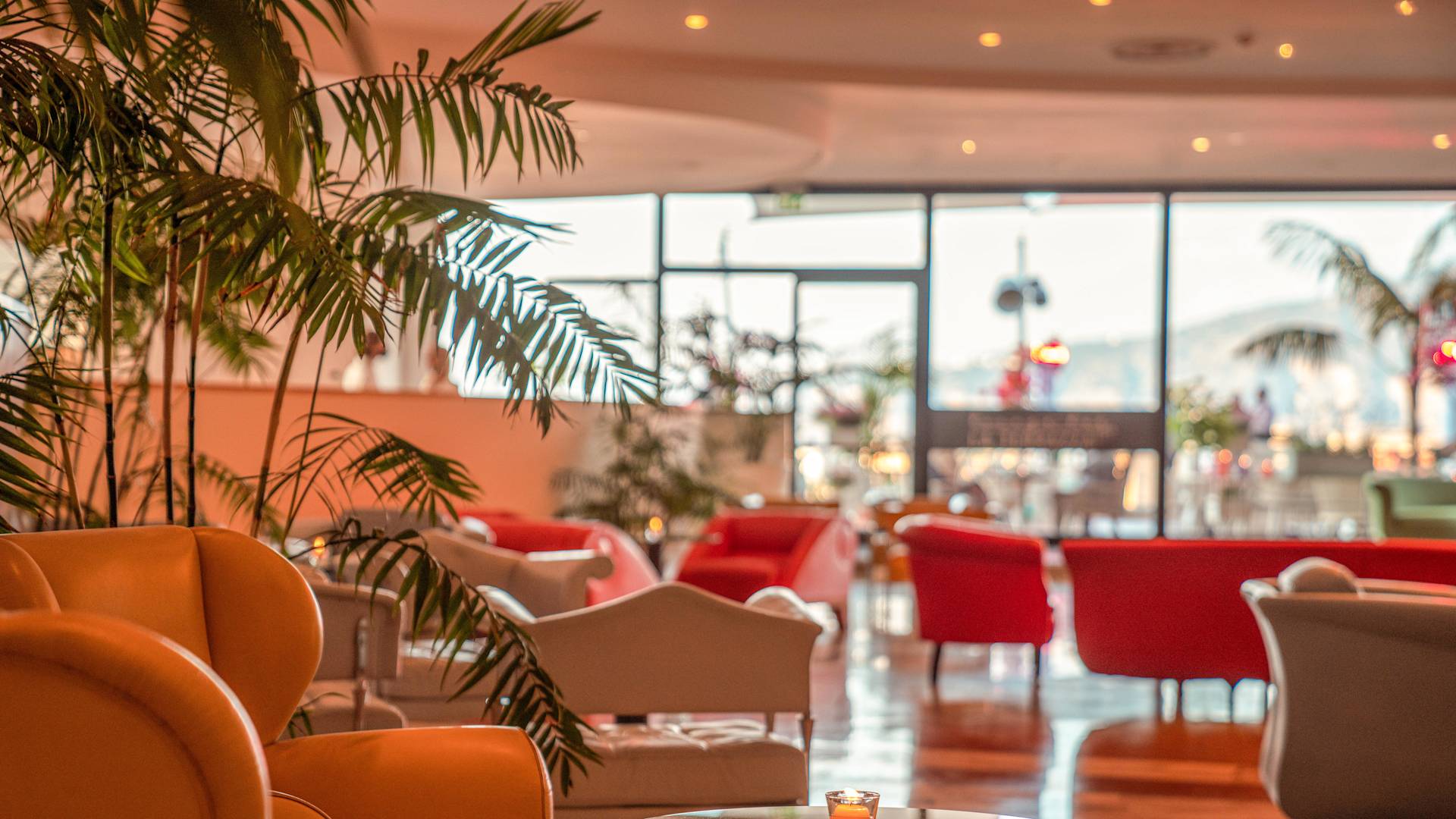 Sorrento Lounge is the perfect place to meet for cocktails, coffee, and snacks. Relax in plush sofas as you take in stunning views of the Bay of Naples from our floor-to-ceiling windows.
Snacks
Insalata Caesar
Caesar salad
€15
Insalata Caesar con petto di pollo
Caesar salad with chicken breast
€18
Club Sandwich con patate fritte*
Club sandwich with French fries*
€18
Hamburger di Chianina con patate fritte*
Chianina" hamburger with French fries*
€18
*In the absence of availability of the fresh product, the dishes marked with (*) are prepared with frozen or frozen raw material at the origin. Some products are subjected to rapid temperature reduction to guarantee quality and safety, as described in the HACCP plan accordingly to EC Regulation 852 / 04. The fish used to be eaten raw or practically raw has been subjected to preventive reclamation treatment in compliance with the provisions of EC Regulation 853/2004, Annex III, section VIII, chapter 3, letter D, point 3 - as required by the note of the Ministry of Health of 2011. For special dietary requirements / allergies or further information, please ask the Restaurant Manager.
Torta caprese con gelato alla vaniglia
Almond and chocolate cake with vanilla ice cream
€10
Gelato della casa
Home-made ice cream
€9
Frutta affettata
Sliced fruit
€9
Wine List
Bollicine / Sparkling
Prosecco di Valdobbiadene
Zonin
€10 / €40
Franciacorta Spumante
Contadi Castaldi
€12 / €55
Champagne Brut
Veuve Clicquot
€22 / €120
Champagne Rosè Ponsardin
Veuve Clicquot
€26 / €150
Bollicine Italiane / Italian Sparkling Wine
Ferrari Perlè, Trento DOC
Fratelli Lunelli
€90
Ferrari Perlè, Trento DOC, Magnum
Fratelli Lunelli
€150
Franciacorta Cuvée Prestige
Cà del Bosco
€95
Franciacorta Cuvée Prestige Magnum
Cà del Bosco
€160
Dòrè Ver Sacrum Vesuvio
Cantine Sorrentino
€45
Spumante Asti
DOCG, Martini
€40
Champagne
Impérial
Moët & Chandon
€150
Ice Imperial
Moët & Chandon
€220
Champagne Blanc de Blancs
Ruinart
€220
Champagne Blanc de Blancs Magnum
Ruinart
€380
La Grande Dame 1998
Veuve Clicquot
€290
Dom Pérignon 2012
Moët & Chandon
€460
Champagne Rosé
Champagne Brut Rosè
Ruinart
€260
Cristal Rosè 2007
Louis Roederer
€850
Bianco / White
Falanghina Annamarì
IGT, La Jala
€11 / €36
Greco di Tufo
DOCG, Tenuta Scuotto
€11 / €36
Valmasia
DOC, Tunella
€11 / €36
Pinot Grigio
Trentino DOC, Bottega Vinai
€10 / €33
Chardonnay
Trentino DOC, Bottega Vinai
€10 / €33
Sauvignon
Trentino DOC, Bottega Vinai
€10 / €33
Vini Bianchi Campani / White Wines from Campania
Lacryma Christi
DOC, Cantine Sorrentino
€32
Ischia Forastera
DOC Pietratorcia
€34
Ischia Biancolella
DOC Pietratorcia
€34
Fiano Trentenare
IGP, Cantine San Salvatore
€36
Falanghina
IGP, Tenuta Scuotto
€32
Poizzo
IGP, Abbazia di Crapolla
€36
Ohi Nì, fiano di Avellino
IGP, Tenuta Scuotto
€45
Bianco del Tasso
IGT, Cantine De Angelis
€40
Campanaro
Feudi di San Gregorio
€50
Vini Bianchi Italiani / Italian White Wines
Pecorino Mottagrossa
IGT, Terre d'Erce
€40
Frascati Cannellino
DOC, Fontana Candida
€30
Frascati Terre dei Grifi DOC
DOC, Fontana Candida
€30
Gewurztraminer
DOC, Bottega Vinai
€35
Chardonnay Curtefranca
DOC, Cà del Bosco
€95
Chardonnay Curtefranca Magnum
DOC, Cà del Bosco
€160
Rosso / Red
Aglianico Redo IGP
Tenuta Scuotto
€13 / €48
Lacryma Christi Chratè
DOC, Le Lune del Vesuvio
€12 / €44
Primitivo Sasseo
IGT, Masseria Altemura
€10 / €34
Chianti Superiore
DOCG, Banfi
€10 / €34
Pinot Nero
DOP, La Tunella
€11 / €36
Montepulciano
DOC, Terre d'Erce
€11 / €36
Brunello di Montalcino
DOCG, Banfi
€17 / €63
Cabernet Sauvignon
IGP, La Tunella
€10 / €35
Merlot
DOP, La Tunella
€11 / €36
Vini Rossi Campani / Red Wines from Campania
Sabato
Abbazia di Crapolla
€36
Baldassarre
IGP, La Jala
€45
Jungano, Aglianico Paestum
IGP, Azienda Agricola San Salvatore
€40
Nero del Tasso, Aglianico del Beneventano
IGT, Cantine De Angelis
€50
Furore, Costa d'Amalfi
DOC, Marisa Cuomo
€40
Furore Riserva, Costa d'Amalfi
DOC, Marisa Cuomo
€70
Taurasi
DOCG, 2012 Villa Raiano
€39
Iovi Tonant, Aglianico del Taburno
DOCG, Masseria Frattasi
€65
Taurasi, Piano di Montevergine
DOCG, Feudi di San Gregorio
€75
Taurasi, Radici
DOCG, Mastroberardino
€55
Aglianico Vigna Corona
DOC 2000, Tenuta le Querce
€100
Vini Rossi Italiani / Italian Red Wines
Chianti Castiglioni
DOCG, Frescobaldi
€30
Marù, Negroamaro
IGT, Castello Monaci
€30
Chersì, Barbera D'Asti Superiore
DOCG, Tenimenti Ca Bianca
€48
Tenuta della Ioria, Cesanese del Piglio Superiore Riserva
DOCG, Casale della Ioria
€55
Tintilia
DOC, Di Majo Norante
€35
Ugolforte, Brunello di Montalcino
DOCG, San Giorgio
€70
Montepulciano D'Abruzzo, La Paurosa
DOP, Terre D'Erce
€40
Barolo
DOCG, Tenimenti Cà Bianca
€63
Barolo
DOCG 1998, La Serra
€180
Amarone della Valpolicella Classico
DOCG, Santi
€75
Barbaresco
DOCG 1997, Gaja
€240
Barolo
DOCG 1997, Rocche dell'Annunziata
€240
La Villa, Langhe Rosso
Elio Altare 1995
€250
Rosé
Lacryma Christi
Cantine Sorrentino
€10 / €32
Vetere
IGP, Cantine San Salvatore
€35
Rosammurri
IGT, Rapitalà
€34
Champagne Rosé
Champagne Brut Rosè
Ruinart
€260
Cristal Rosè 2007
Louis Roederer
€850
Vini da Dessert
Passito di Pantelleria
DOC 2013, Pellegrino
€10 / €50
Marsala Superiore Riserva 10 anni
DOC, Marco de Bartoli
€12 / €72
Vecchio Samperi Ventennale
DOC, Marco de Bartoli
€16 / €90
Moscato d'Asti
DOCG, Ca bianca
€7 / €30
Beverages
Spritz Suggestions
€15
The Spritz
Prosecco and soda water
Aperol, Campari, Elderflower, or Chambord
The "Sparkling" Composers
Bellini/peach, rossini/strawberry, puccini/mandarino
Limoncello Spritz
Limoncello, prosecco, and soda water
Signature Cocktails
€18
Costiera 30
Gin Costiera, prosecco, fresh lemon juice, and basil syrup
Mule
Fresh lime juice and ginger beer
Gin, vodka, or rum
Sun's Kiss
Gin, pineapple, passion fruit syrup, fresh lime juice, and tonic water
"Your" Sour's
Fresh lemon juice and sugar syrup
Amaretto di Saronno, whiskey, or Midori
Blue Passion Margarita
Silver tequila, blue curaçao, fresh lemon juice, passion fruit syrup, and Peychaud's
Black Cherry Bramble
Gin, Marendry, fresh lemon juice, sugar syrup
Limoncello Martini
Vodka or gin and Limoncello
French Martini
Vodka, Chambord, and pineapple juice
Mezcal Negroni
Mezcal, bitter Campari, red vermouth
Negroni, Negrosky, or Boulevardier
Bitter Campari and red vermouth
Gin, vodka, or whiskey
High Pression Negroni
Gin, bitter Campari, red vermouth, chili pepper, and licorice
Hot Light
Vodka, Cointreau, apricot brandy, passion fruit syrup, chocolate bitters
Smoked Cherry Mule
Whiskey, cherry syrup, fresh lime juice, and ginger beer
Diplomatica Pasion
Diplomatico rum, passion fruit, fresh lime juice, and Coca-Cola
S. Costanzo
Amaro S. Costanzo, bitter Campari, Fernet Branca
Martini Cocktail
Tanqueray, Noilly Prat, orange bitters
Gibson Cocktail
Plymouth, Dolin Vermouth Dry
Vodka Martini
Ketel One, Mancini Secco
Mocktails
€14
Rubbit Run
Carrot juice, clementine juice, lime, and ginger beer
Soggy Dollar
Pineapple, orange, lime, coconut, and raspberry
Sorrento
Lemon and orange Sorrento juice with bergamotto and peach foam on top
Sweet Sea
Blue tropical juice, elder flowers, fresh lemon juice, and soda
Curated Selection
€18
Filliers Dry Gin
28 Botanics 46°
Servito con lime e fragole / Garnished with lime and chopped strawberries
X Gin
15 Botanics 46°
Servito con bacche di cacao / Garnished with cocoa seeds
Elephant Gin
15 Botanics 46°
Servito con mela e bacche di ginepro / Garnished with apple and juniper berries
Monkey 47
47 Botanics 47°
Servito con scorza di pompelmo / Garnished with grapefruit peel
Bathtub Gin
6 Botanics 43.3°
Servito con pepe bianco e bacche di ginepro / Garnished with white pepper and juniper berries
Tanqueray Ten Gin
7 Botanics 47.3°
Servito con fettina di limone e rosmarino fresco / Garnished with lemon and fresh rosemary leaves
Malfy
6 Botanics 41°
Servito con limone di Sorrento / Garnished with Sorrento lemon
Roby Marton Gin
11 Botanics 47°
Servito con zenzero / Garnished with a slice of ginger root
Marconi 46, Poli
8 Botanics 43°
Servito con ginepro e scorza di limone / Garnished with juniper and lemon peel
Hendrick's Gin
11 Botanics 44°
Servito con cetriolo e finocchio fresco / Garnished with cucumber and fresh fennel
Akori Gin
6 Botanics 42°
Servito con kumquat / Garnished with kumquat
Nordes Gin
911Botanics 40°
Servito con alloro, menta e salvia / Garnished with laurel, mint, and sage
Botanic Kiss
9 Botanics 37.5°
Servito con frutti di bosco / Garnished with wild berries
Mare Gin
9 Botanics 42°
Servito con ramoscello di rosmarino / Garnished with twig of rosemary
Costiera Gin
9 Botanics 43°
Servito con limone, radici di liquirizia e coriandolo / Garnished with lemon, licorice roots, and coriander
Tann's Gin
10 Botanics 40°
Servito con essenza di mandarino / Garnished with mandarin essence
Brooklyn Gin
6 Botanics 40°
Servito con limone e ginepro / Garnished with lemon and juniper
G Vine Floraison Gin
16 Botanics 40°
Servito con salvia e uva / Garnished with sage and grape
G Vine Novaison Gin
5 Botanics 45°
Servito con prugna e bergamotto disdratati / Garnished with dried plum and bergamot
Birra Artigianale / Craft Beer
Birra Artigianale Syrentum
75 CL
€20
Birra Artigianale Syrentum
33 CL
€10
Birra Alla Spina / Draught Beer
Birra in Bottiglia / Bottled Beer
Espresso & Coffee
€3 - €5
Caffè decaffeinato
Decaffeinated coffee
Caffè d'orzo
Barley coffee
Caffè Americano
American coffee
Hot Chocolate & Tea
€5
Cioccolata calda
Hot chocolate
Tè caldo, infuse, tisane
Tea, infusions, and tisanes
Sorrento Lounge