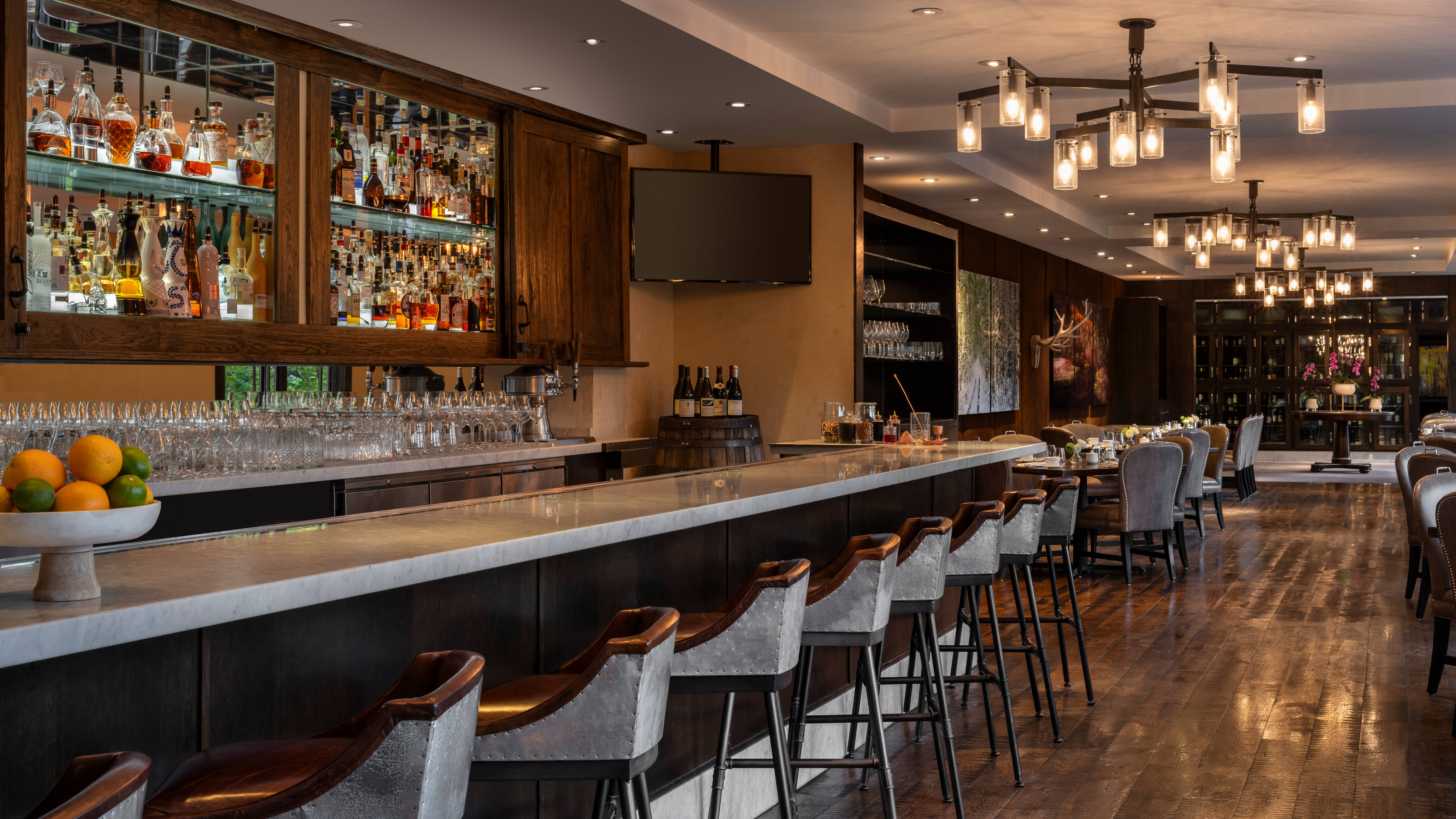 Dining is delicious at Waldorf Astoria Park City with our restaurant Powder and in-room options.
1

/

4
Powder Restaurant
Savor elevated comfort food inspired by mountain regions from around the world, and treat yourself to a seasonal, all-day menu seven days a week. Our bar serves casual bites highlighted by handcrafted cocktails and a curated wine list.
1

/

3
Restaurant Hours
Breakfast: 7 am – 11 am
Lunch:  11:30 am – 2:30 pm
Bar: 11 am – 10 pm
Dinner: 5:30 pm – 9 pm
In-Room Dining
Delight in fine dining in the comfort of your room. Along with a variety of all-day options, enjoy an overnight selection of light bites.
Restaurant Menus
MORNING SHAKES
JUICE
orange | grapefruit | apple
GREEN SMOOTHIE
kale | avocado | spinach | apple | citrus | ginger
GF/VG
MIXED BERRY & ORANGE SMOOTHIE
GF/VG
STRAWBERRY BANANA SMOOTHIE
agave | almond milk
GF/VG
FITNESS & PROTEIN
omega seed butter | almond milk | wild blueberries | hemp | chia | dates | vegan protein
GF/VG
ENERGIZING
FRUIT & BERRIES
house-made granola | honey
GF, VG
AVOCADO TOAST
tomato | pickled onion | parmesan | multi-grain
add egg
V
ACAI YOGURT BOWL
greek yogurt | farm fresh berries | house-made granola | banana
LOX AND BAGEL
smoked salmon | dill cream cheese | pickled onion | arugula | cucumber
EGGS
THE ASTORIA
two eggs | potatoes | multigrain toast | choice of: bacon | pork sausage | chicken sausage | ham
POWDER OMELET
sausage | bacon | ham | white cheddar
FRENCH OMELET
goat cheese
GF
FARMER'S OMELET
mushroom | tomato | onion | goat cheese
add avocado
GF
CROISSANT BREAKFAST SANDWICH
egg | bacon | american cheese | tomato
EGGS BENEDICT
english muffin | ham | hollandaise | poached egg
GRAINS AND OATS
ASSORTED PASTRIES
butter croissant | chocolate croissant | raspberry palmier
V
FRENCH TOAST
berries | chantilly cream
V
BUTTERMILK PANCAKES
berries | chantilly cream
add blueberries | add chocolate chips
STEEL CUT OATMEAL
fresh berries | banana
VG
CONTINENTAL BREAKFAST
assorted pastries | fresh fruit | greek yogurt parfait | house-made granola
V
SIDES
MEAT
bacon | pork sausage | chicken sausage | ham
TOAST
multi grain | wheat | sourdough | rye
Kids Breakfast
BUCKAROO BREAKFAST
scrambled eggs | bacon | sausage | toast
Appetizers
SHRIMP CEVICHE
jalapeno | mango | lime | red onion | plantain chip
HUMMUS
beet root | grilled pita | garden vegetable
STRAWBERRY & MINT SALAD
baby kale| english cucumber | feta cheese | rhubarb gastrique
SUMMER TOMATO SALAD
heirloom tomato | house ricotta | cucumber | red onion | basil | aged balsamic
CAESAR SALAD
baby gem lettuce | marinated tomato | white anchovy | parmesan cheese
CHILLED PEA SOUP
maryland blue crab | crème fraiche | fresno pepper
ADD ON
steak | shrimp | salmon | chicken
Sandwich and Wraps
BLACKENED FISH SANDWICH
mahi mahi | house tartar sauce | lettuce | tomato | brioche bun
GRILLED CHICKEN SANDWICH
kimchi mayo | asian pear slaw | haas avocado
VEGETABLE WRAP
grilled and marinated vegetable | hummus | spring lettuce | feta cheese | aged balsamic
Entrées
SESAME CRUSTED AHI TUNA
kimchi puree | avocado | snap pea | bok choy
TUNA POKE
sticky rice | pickled onion | avocado | edamame | sunonomo cucumber | spicy mayo
WALDORF DOUBLE BURGER
american cheese | tomato | shaved lettuce | onion | pickle
SHRIMP TACOS
charred pineapple slaw | avocado crème | pickled fresno
Desserts
BANANA SPLIT
housemade vanilla strawberry chocolate ice cream | chantilly cream | crushed walnut | chocolate ganache
SORBET TRIO
cantaloupe | coconut lavender | mango berry
PASSION FRUIT PANNA COTTA
fresh berry | mint
We are required to inform you by the Utah state food code that consuming raw or undercooked meats, poultry and seafood, and shellfish or eggs may increase your risk of foodborne illness. 20% gratuity will be added to parties of 6 or more. Additional $6 for a split plate.
Appetizers
HUDSON VALLEY FOIE GRAS
cashew butter | blueberry | brioche
SALMON TARTARE
avocado| dill crème fraiche| smoked salmon roe| everything bagel spiced wonton
GRILLED SPANISH OCTOPUS
pequillo pepper| kalamata olive tapenade| confit purple potato
STUFFED SQUASH BLOSSOM
ricotta cheese| marinated tomato| artichoke heart| roasted pepper romesco| candied almond
Soups and Salads
GRILLED PEACH BURRATA
mint | basil| baby kale| roasted pepita| harissa honey dressing
WATERMELON & TOMATO
french feta | red onion | cucumber & mint dressing
GRILLED CAESAR SALAD
baby gem lettuce| marinated tomato | kalamata olive| white anchovy | parmesan
CHILLED PEA SOUP
maryland blue crab | crème fraiche| fresno pepper
MAINE LOBSTER BISQUE
confit leek | sourdough crouton | crème fraiche | sturgeon caviar
Entree
JOYCE FARM DUCK BREAST
leek soubise | charred broccolini | grilled apricot | cherry gastrique
NEW YORK STRIP
sunchoke puree | potato pave | spring onion| bordelaise
STRIPPED BASS
saffron risotto | english pea puree | shaved fennel | tomato ndjua broth
MARY'S ORGANIC CHICKEN
Jamaican jerk glaze | pineapple coconut rice| smoked plantain puree
NIMAN RANCH LAMB RACK
spring pea & mint puree| radicchio| petite summer squash |coffee cherry demi
LOBSTER AGNOLOTTI
chanterelle mushroom | summer corn| spring pea |cognac butter sauce
A La Carte
12OZ MARY'S ORGANIC CHICKEN BREAST
14OZ DRY AGED KANSAS CITY
Enhancement
HERB BUTTER | TRUFFLE BUTTER
BORDELAISE SAUCE | BEARNAISE SAUCE | COFFEE CHERRY DEMI
Kids Lunch/Dinner
ROASTED SALMON
seasonal vegetables
GRILLED CHICKEN
seasonal vegetables
PASTA
butter sauce or red sauce
GRILLED CHEESE
sourdough | American cheese | fries or fresh fruit
CHICKEN FINGERS
fries or fresh fruit
CHEESEBURGER
fries or fresh fruit
KEY LIME CHEESECAKE
graham cracker crust| mango coulis | puffed quinoa
Serves two
VEGAN CHOCOLATE CAKE
coconut whipped cream | mandarin orange sorbet | chocolate sable
Serves two
STRAWBERRY MASCARPONE MOUSSE
macerated strawberries | rhubarb gastrique| vanilla sponge cak
ICE CREAM
chocolate | vanilla bean | daily chef special
GF
SORBET
cantaloupe | coconut lavender | mango berry
AFTER DINNER DRINKS
TOKAJI, ROYAL TOKAJI WINE CO
WAREE'S OTIME 10 YEAR TAWNY PORTO
COCKTAILS
'NEW' OLD FASHIONED
Whiskey
high west double rye | high west bourbon | cherry syrup | bitters
Whiskey No.2
calumet bourbon | whistlepig piggyback 6 | walnut bitters | rye whiskey maple syrup
Gin
madam pattirni gin | cappelleti | lux fernet | carpano antica vermouth
Mezcal
bozal mezcal | ancho reyes | creme de cacao | chocolate bitters | orange bitters
Scotch
johnnie walker blue label | pierre ferand | luxardo | fernet branca
POWDER CREATIONS
Perfect Manhattan
old elk | carpano antica vermouth | lillet blanc | bitter
Espresso Martini
vanilla vodka | caluados| espresso | cinnamon syrup
Spicy Pomegranate Margarita
lunazul | lime| dry curacao | jalapeno | pomegranate | agave
The Djinn Bee
beehive gin | lemon | honey | yellow chartreuse
Penicillin
glenmorange x | lemon juice | honey ginger syrup | st. germain | corryvreckan
The Last Rhum
neisson agricole rhum | lime juice | green chartreuse | luxardo
The Boss
hennessey imperial paradis | whistlepig boss hog | vermouth
SPIRIT-FREE CREATIONS
Canyon Mule
fresh pineapple | lime juice | ginger beer
Blackberry Rickey
lime juice | raspberry syrup | soda
WINE BY THE GLASS
SPARKLING
Brut Rose, Hubert Meyer Cremant d'Alsace
Brut Champagne, Veuve Clicquot, Brut
WHITE
Sauvignon Blanc, Savee Sea
Pinot Grigio, Alois Lageder
Sweet Riesling, Chateau St. Michelle "Eroica"
Chardonnay, Battle Creek "Unconditional"
RED
Pinot Noir, Willamette Valley Vineyards "Whole Cluster"
Pinot Noir, Morgan "12 Clones"
Barbera, Marchesi di Barolo
Cabernet Sauvignon, Obsidian Ridge
Red Blend, Halter Ranch "Ancestor"
Our extensive wine list from around the world is available by the glass or bottle. Please contact us on +1 435-647-5566 to request a full wine list.
NON-ALCOHOLIC DRINKS
JUICE
ORANGE | CRANBERRY | APPLE | GRAPEFRUIT
ACQUA PANNA STILL BOTTLED WATER
SAN PELLIGRINO SPARKLING BOTTLED WATER
TOPO CHICO SPARKLING MINERAL WATER
SOFT DRINKS
COKE | DIET COKE | SPRITE | COKE ZERO | DR. PEPPER | DIET DR. PEPPER | GINGERALE
Prix Fix Menu
Amuse Bouche
CHIVE POTATO LATKE
Cranberry Apple Relish, Confit Duck, Candied Orange
First Course
choice of
PAN SEARED DIVER SCALLOP
Guanciale Ragu, Great Northern Beans, Charred Endive
ROOT VEGETABLE SALAD
Roasted Petite Root Vegetables, Smoked Yogurt, Toasted Chestnuts, Pomegranate Vinaigrette
FOIE GRAS TORCHON
Cardamon and Fig Compote, House Brioche, Pickled Mustard Seed
Second Course
choice of
CONFIT OF DUCK LEG
Roasted Sweet Potato Puree, Candied Kumquat, Braised Root Vegetables, Apple Cider Jus
SMOKED WAGYU SHORTRIB
Celery Root Puree, Grilled Maitaki Mushroom, Winter Truffle
POACHED PACIFIC BLACK COD
Champagne Risotto, Vanilla Burre Blanc, Fine Herbs
CHARRED ROASTED CAULIFLOWER
Red and Yellow Beets, Spiced Chevre, Golden Raisins, Shaved Pistachio
Third Course
choice of
HUKAMBI CHOCOLATE MOUSSE
Chocolate Mousse, Apricot Coulis, Cherry Ganache
GLUTEN FREE ANGEL FOOD CAKE
Spiced Black Currant Sorbet, Orange Gastrique
WHITE CHOCOLATE SEMIFREDO
Green Apple, Orange, Vanilla Sable
USA

/

Utah

/

Dining