Dining and drinks
Blue Willow
Blue Willow is the all-Day dining of Conrad Hangzhou and is inspired by the weeping willows that represent the natural iconic features of the West Lake. Restaurant offers a panoramic view of the city through its spacious floor. From open kitchen to live station, Where chef showcase the art of cooking. The New Weekend Brunch features a family theme, bring high-quality ingredients and ingenuity cooking to your table. Blue Willow also open buffet dinner on Weekend, establish a new "weekend feast."
Breakfast from: 06.30am - 10.30am Lunch from: 11.30am - 02.00pm Dinner from: 05.30pm - 09.00pm
JIN
JIN, located on the hotel's 26th floor, is a modern and luxurious tea lounge during the day and evolves into an elegant bar with live music during the evening. JIN is part of the hotel's arrival experience and with its feminine touch and contemporary tones the lounge acts as a sanctuary of heritage and modern looks.
Main visual service feature is the Chinese tea station with show counter. Afternoon tea available from: 02.00pm - 05.00pm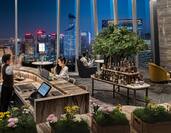 Li'An
Li'An serves traditional Chinese food in a contemporary style and where the Chinese details are being interpreted in an elegant and modern way. Hangzhounese cuisine, supplemented by signature dishes from different areas in China. The a la carte area has been designed as a living room, whereas the decor resembles the individual rooms in a house. Each dining area will have its own lounge area, pantry and washroom.
Located on Level 50, Li'An is the tallest restaurant in Hangzhou.
RYUKE - Japanese Restaurant
RYUKEN, located on Level 26, is operated & managed by independent third party operator. Offering Japanese delicacies in a simple yet upscale environment. Open for lunch and dinner, RYUKEN is a modern space to socialize, escape and celebrate.