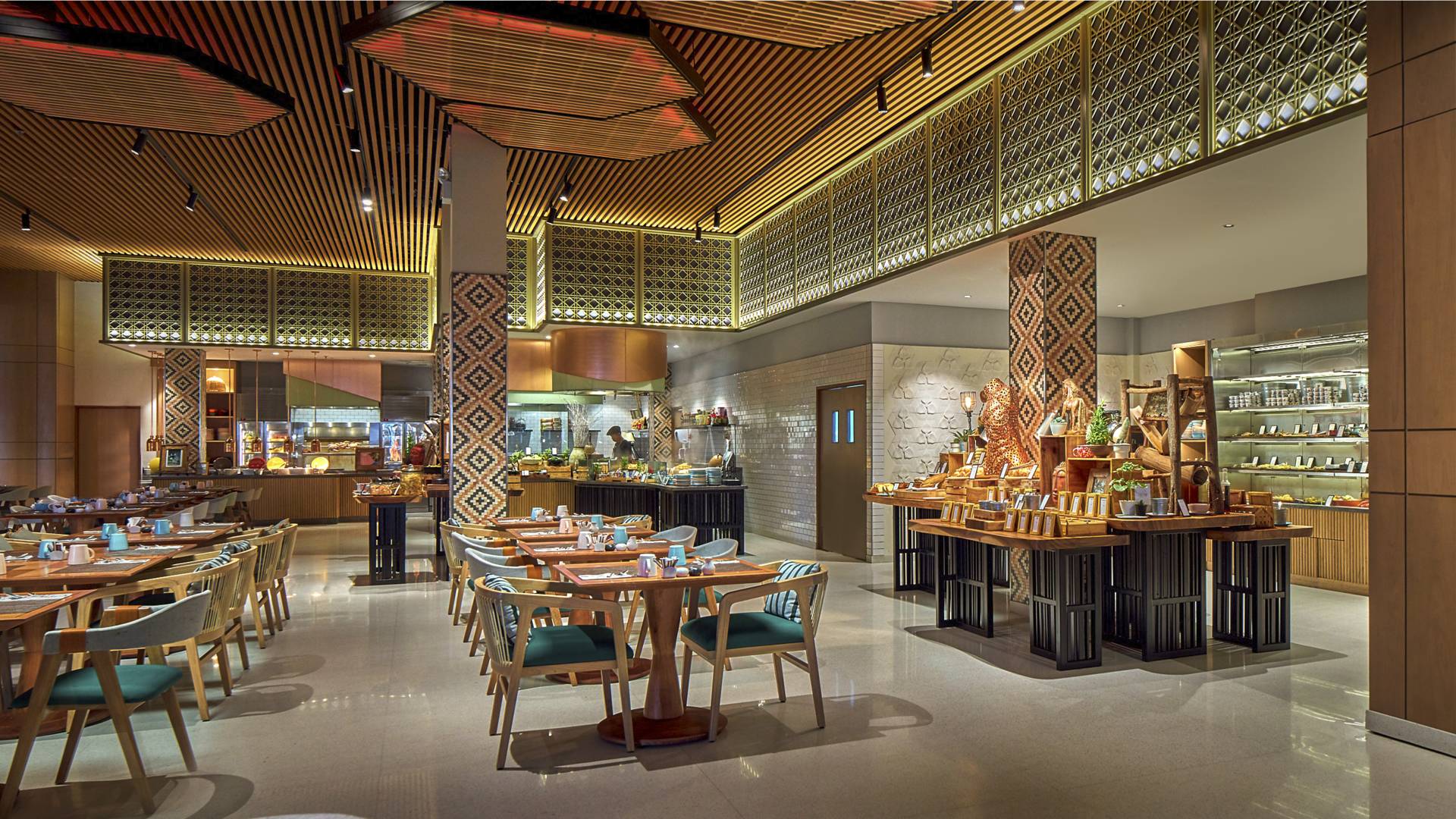 Join us in our spacious indoor and outdoor seating area with an open kitchen. Whether you're eating breakfast or dinner, Grain is sure to delight with an exciting array of cuisine.
Opening hours
Breakfast: 6.30 am – 10.30 am
Dinner: 6.00 pm – 10.00 pm
Taste of Spain (Monday, Wednesday, Friday)
Southern Grill (Tuesday, Thursday, Saturday)
Ocean Breeze (Sunday)
Christmas Eve Earth Ocean Dinner
24 December 2023 | 6.00 pm – 10.00 pm at Grain
Savor the sea responsibly at our guilt-free seafood dinner! Immerse yourself in live interactive cooking, and explore our vibrant fresh seafood stalls. Indulge in sustainable flavors while supporting the future of our oceans. All accompanied by the soothing melodies of a live band.
Spark & Bubble: Sparkling Wine Bazaar and Craft Beer Bucket. Special Xmas Cocktail and live counter Mulled Wine.
Price: IDR 750,000++ per person
Menu
Breakfast soup of the day
Please ask our team for today's special
60
Scrambled eggs
Toasted sourdough, bacon, cherry tomato jam, parmesan
135
contains pork
Mie Goreng Kampung
Wok-fried egg noodles, chicken, vegetables, crackers, egg, sambal
130
Nasi Goreng Kampung
Wok-fried rice, chicken, vegetables, egg, crackers, sambals
130
American
2 eggs served any style, mushrooms, tomatoes, bacon, hash brown, sausages, sourdough toast, house chutney
190
contains pork
French toast
Raisin brioche coffee custard, mascarpone, honey comb, coffee & pepper dressing
140
vegetarian
Hot cakes
Strawberry textures, puffed grains, coconut syrup, pressed yoghurt
140
vegetarian
Eggs Benedict
Bacon, poached eggs, English muffin, hollandaise
140
contains pork
Char Kuey Teow
Penang fried rice noodles, prawns, Chinese pork sausage, chives, bean sprouts
180
contains pork
Tuna bowl
Cucumber pickled & compressed, brown rice, edamame, matcha ginger dressing
170
Quinoa bircher
Coconut syrup, braised apples, coconut crumble, roasted almonds
150
vegetarian
Dragon fruit smoothie bowl
Almond milk, toasted seeds, poached fruits, salted granola crumble
150
vegetarian
Bubur
Choice of : pork, chicken or plain with 4 condiments (char kwai | crispy garlic | crisp shallots | peanuts | pickled radish | kimchi | sambal | salted egg | sliced chilli | sweet soy sauce | sauce soy | spring onions & coriander | salted lettuce)
90
All prices are in thousands Indonesian rupiah. In our effort to fulfil your expectation, please inform our team should you have any special dietary requirements, allergies, intolerances. Price subject to 21% service charge and government taxes. Dine-in only, room service is not available.
Tapas
Champinones al ajillo
sautéed mushrooms in garlic, olive oil, parsley, pistachio crumbs
V
Ensalada de queso de cabra marinado
marinated goats cheese salad with sherry vinegar dressing
V
Montaditos de jamon Serrano
50g sliced Serrano ham with olive oil
Boquerones en vinagre
Spanish white fillet anchovy's pickled garlic & oregano, honeyed goats' cheese, salsa verde, grilled sour dough
Roasted eggplant
burrata, basil, confit tomato
V
Gazpacho
lovage pesto, mozzarella
V
Cauliflower croquetas
black garlic ailoi
Taramasalata
salmon roe, sour dough wafers
Pulpo a la gallega
Galician style octopus, potato, olive oil, spicy paprika
Confit of salmon
peas a la francaise
Garlic white bean purée
fried salami, olive oil, sun dried cherry tomatoes
Catalan lamb skewers
tomato, mint & parsley
Grilled chorizos
braised lentils, black garlic aioli
Cochinillo asado
roasted suckling pig, roasted potatoes
Albondigas
pork & veal meatballs with fennel, green peas & sofrito sauce
Gambas al Pil Pil
sautéed prawns in olive oil, garlic, chili & parsley
Ambient
Beef Carpaccio
rocket, lemon dressing, granda parmigiano
Octopus Carpaccio
chili, olive oil, coriander
Melon
peas, beans, grapes, ajoblanco dressing
Smoked salmon
stuffed with cheese mousse, black aioli, and sesame seeds
Beetroot with pickled quail eggs
Seafood salad
apple, breadcrumbs, olives and anchovy vinaigrette
Sprout, pickled onion, lettuce salad
Aged wagyu tartare
figs, anchovy butter
Terrine of the day
wafer, pickles, toasted pistachio
Dulces
Arroz con leche
rice pudding
Cream a catalane
Spanish crème brulee
Tarta de Chocolate
Chocolate tart
Pain perdu
roasted strawberries, peppered balsamic
Torta di Mele
moist apple cake
Espresso and caramel cake
Crepes
crème fraiche, orange dressing
Vanilla, caramel eclairs
chocolate glaze
Zeppole Italian Doughnuts
While chocolate mousse
citrus, vanilla crème
Churros
Spanish donuts with dark chocolate sauce & vanilla syrup
Southern grill
All meats & seafood's with array of sauces + rubs
Chicken thigh wrapped in bacon
Salad & Side bar
Creamy potato salad
roasted suckling pig
Brazilian style Quinoa salad
Creamy baked potatoes
sour cream, chives
Hand cut fries
parmesan, herb salt
Caesar, salmon, white anchovies
Coconut pineapple slaw
pesto dressing
Spiced & pickled leaf coleslaw
Endings
Churros
with selection of dressings
Torched pineapple
coconut textures
Cheese Elements
All Cheeses served with crackers, lavosh, fruit pastes
Smoked Salty Ricotta
80
50g
Cheese platter for 2, selection of above
450
50g
Cheese Based dishes
Smoked watermelon Burrata salad
140
V
Beetroot, smoked salty ricotta
140
V
Grilled Ciabatta
tomato collection, grilled scamorza
140
V
Salted ricotta stuffed zucchini flowers
garlic aioli
140
Mushroom pate
Persian feta, serrano ham
155
P
Grilled goats cheese
mixed leafes, sherry dressing
155
Cauliflower croquetas
black aioli
145
V
Pizzas
Ocean spray
mixed seafood
250
Pizza Bianca
with scamorza, shaved fennel
250
Quattro formaggi, 4 cheese pizza
280
Lamb
feta, rocket, yoghurt dressing
280
Eggplant
burrata, basil, tomato confit
250
V
Cheese based sweets
Goats cheese pudding
mixed berries
90
Triple cheese cake
smoked lemons, amaretti crust
85
Roasted fruits with baked ricoatta
90
Churros
chocolate dressing, vanilla syrup
75
VG - Vegan | V - Vegetarian | GF - Gluten Free | DF - Dairy Free | P - Coantain Pork | S - Spicy
All prices are in thousands Indonesian rupiah. In our effort to fulfil your expectation, please inform our team should you have any special dietary requirements, allergies, intolerances. Price subject to 21% service charge and government taxes. Dine-in only, room service is not available.
Signature Cocktails
Gin, crème de Cassis, Triple Sec, Home Made Pandan Syrup, Pineapple Juice, Lime Juice, Soda Water
Tequila, Vodka Infused Chili Pepper, Grape Fruit Juice, Simple Syrup, Lime Juice
Remy Martin VSOP, White Rum, Orange Juice, Pineapple Juice, Lime Juice, Grenadine
White Rum, Baileys, Butterscotch Syrup, Chocolate Sauce
Gin, Triple Sec, Lime Juice, Fresh Ginger, Anise Aromatic, Tonic Water
Butterfly Pea Infused Gin, Fresh Lime, Tonic Water
Cocktails
Havana Club 3 Years, Triple Sec with your choice of Classic/Strawberry/Peach/Lychee
Olmeca Reposado, Triple Sec, with your choice of Classic/Strawberry/Peach/Lychee
Absolut Blue, Havana Club 3 Years, Olmeca Reposado, Beefeater, Ballantine's, Triple Sec, Lime Juice, Coca cola
Beefeater, Sweet Vermouth, Campari
Havana Club 3 Years, Cointreau, Apricot Brandy, Dark Rum, Orange Juice, Grenadine
Havana Club 3 Years, Mint Leaf, Sugar, Lime Fruit, Soda water
Havana Club 3 Years, Coconut Liqueur, Pineapple Fruit, Pineapple Juice, Coconut Cream
Olmeca Reposado, Triple Sec, Sour Mix
Absolut Blue, Lime Fruit, Brown Sugar, Lime Juice
Absolut Blue, Tomato Juice, Lime Juice, Salt, Pepper, Tabasco, L & P Sauce
Ballantine's, Sugar, Mint leaf
Havana Club 3 Years, Lime Fruit, White Sugar, Lime Juice
Sangria Corner
Red Sangria By Pitcher
Red Wine, Martel V.S.O.P, Fruits, Sprite
850
1000 ml
White Sangria By Pitcher
White Wine, Martel V.S.O.P, Fruits, Sprite
850
1000 ml
Red Sangria By Glass
Red Wine, Martel V.S.O.P, Fruits, Sprite
180
150 ml
White Sangria By Glass
White Wine, Martel V.S.O.P, Fruits, Sprite
180
150 ml
Mocktails
Orange Juice, Pineapple Juice, Apple Juice, Grenadine
Lime Fruit, Apple Juice, Blue Syrup
Pineapple Juice, Lime Juice, Strawberry Juice
Blended Smoothies
Peach Fruit, Plain Yogurt, Fresh Banana, Turmeric, Fresh Ginger, Orange Juice
Fresh Milk, Orange Juice, Fresh Banana, Pineapple Fruit, Plain Yogurt, Honey
Fresh Pineapple Fruit, Plain Yogurt, Fresh Strawberry Fruit
Soy Milk, Fresh Strawberry, Honey
Soy Milk, Chocolate Powder, Honey
Water
Aqua Reflection Natural
60
380 ml
Aqua Reflection Sparkling
60
380 ml
Ice Tea Favorites
Lychee Fruit, Cold Black Tea, Lychee water, Elder flower Syrup
Fresh Passion Fruit, Cold Black Tea, Vanilla Syrup
Fresh Strawberry Fruit, Cold Black Tea, Strawberry syrup
Fresh Ginger, Cold Black Tea, Mint Syrup
Rosella Flower, Cold Rosella Tea, Home Made Rosella Syrup, Lemon Syrup
Grain