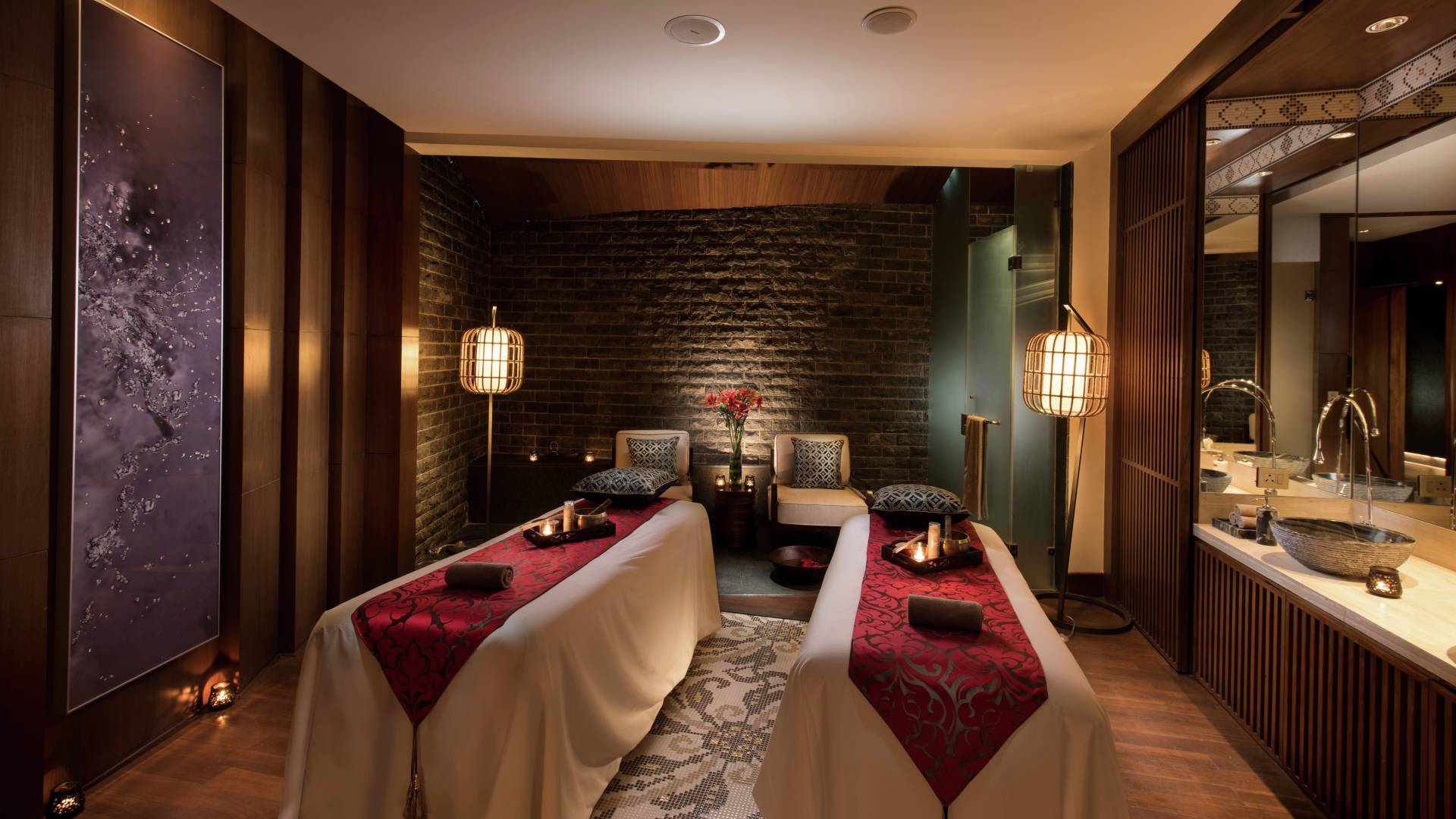 Indulge in a world of serenity and rejuvenation at our third floor spa. We offer a haven of tranquility in the heart of your busy world. Our treatments and therapies draw inspiration from global traditions, personalised for your needs and preferences.
Hours: 9 am – 12 am
Pool: 6 am – 10pm
Fitness Centre: 24hrs
Your wellness escape
The spa has six treatment rooms – including one for couples – alongside sauna, steam facilities and ice fountain facilites.
Whether you seek relief from the stresses of daily life or simply wish to enhance your well-being, Conrad Spa has a tailor-made solution for you.
Spa menu
Express facial
Look fresh with our special beauty products and quick techniques.
Five elements facial
This de-stressing facial uses a rosehip and honey scrub, an ancient organic Tibetan oil to strengthen cell walls, and a lavender and honey mask to improve circulation.
City elements facial
This powerful restorative anti-aging facial draws intense healing extracts to brighten, hydrate, and restore skin tone.
Ocean cleanse facial
Using a special blend of active ingredients from the sea, working within the deeper layers of the skin to re-mineralise with trace elements and vitamins to deeply hydrate and cleanse.
Golden DNA youth facial
Using the world's most potent ingredients: BoTriWell plant stem cells, hyaluronic extract, and three types of gold combined with sonic wave LED therapy.
Massage
Swedish massage
A classic western massage with adjustment of pressure makes it an ideal massage for relaxation. It improves the blood circulation and eases muscular strain.
Sports massage
Let our experienced therapist break down the knots deep in the muscles, relieving chronically tense areas of the body.
Ayurveda massage
It's a traditional Indian massage using warm medicated oil. The combination of soothing and symmetrical long strokes regulates the circulatory and nervous systems.
Hot stone massage
The use of heated stones and the therapist's hands relax the muscles, relieve tension, and soothe the mind.
Aromatherapy
Natural aromatherapy oils and diverse massage techniques and specialized strokes are customized to ensure overall relaxation and the best results.
Jet lag reliever
Relax after a long journey. The treatment begins with a firm full body massage to relieve stiffness and muscles aches.
Balinese massage
Feel tension dissolve with this ancient Balinese healing therapy. Long strokes and skin rolling relieves muscle tensions. Palm and thumb pressure are applied to unravel the deepest stress and improve blood flow.
Thai massage
Without using oils, this ancient treatment is known for its invigorating effect and ability to loosen joints and stretch the muscles.
Prana massage
Energising, detoxifying, and balancing. This full-body massage releases toxins, reduces fatigue, and restores strength.
Element massage
Tension-releasing, harmonising, and revitalising. This Tibetan Ku Nye full-body treatment balances the five elements to restore a harmonious flow of energy. Tibetan techniques help release physical and mental tension.
Potali massage
Inspired by the elements of earth and fire with a rhythmic, fluid massage. Herbal Potali bags are saturated in warmed pine, amber, and frankincense essential oil, mixed with argan oil, soothes away muscular fatigue and joint pain.
Scrubs and wraps
Adreno exhaustion wrap
Targeting the adrenal glands, this specialised wrap combines vetiver, sandalwood, and shilajit with warm and cool kidney packs to bring relief from adrenal exhaustion, hormone imbalances, menopause, and anxiety.
Vitality wrap
Targeting the liver, this specialised wrap incorporates liquor rice, holy basil, shilajit, juniper, sandalwood, cedarwood, and rose, affirmed and activated by warm and cool packs.
De-stress scrub
This blissful Himalayan salt crystal body scrub nourishes both body and emotional wellbeing using damascene rose otto, jasmine, and sandalwood.
Element scrub and wrap
Fatigue boosting scrub using energy reviving pearl and jasmine Himalayan salt crystal scrub and hydrating body wrap. Enjoy restored vitality and mental clarity.
Amethyst gel scrub and wrap
This body scrub and amethyst gel body wrap relaxes and balances the nervous system, stimulating circulation, regeneration of skin cells, and cell growth.
Head to Toe
Indian head massage
A traditional way of relaxation with medicated herbal oil to vanish stress.
Back & shoulder recovery
Using a unique blend of jasmine, patchouli, and cardamom, this Tibetan-style massage combines gentle cupping and kneading to stimulation the flow of energy along the spine and strengthen the nervous system.
Indian foot massage
An express way of relaxation.
The Five Elements
Earth: reassurance
Combining foot wash, grounded frankincense smoke ritual, sound vibration therapy with Tibetan singing bowls to release tension, and a slow, deep scrub and massage with grounding vetiver, patchoili, and jatamani oils.
Fire: re-charge
This treatment begins with a body scrub of Himalayan salt, lemongrass, geranium, and juniper. It finishes with a massage using marma points and warm Himalayan Salt poultices.
Water: creativity & passion
Let everything go with this nurturing deep lymphatic scrub, shower, flowing massage, and chakra warming with jasmine, rose geranium, and patchouli oils.
Space: Peace reigns
This blissful and de-stressing facial uses essential oils and ancient marma massage with a shamantic light technique. For beautiful, glowing skin.
Air: All you need is love
Himalayan salt and poppy seed body scrub. A gentle Anahata (heart) massage focuses on the lymphatic system with warm Himalayan salt poultices. Finally, a traditional basti is placed with warm rose oil and poppy essence.
Adaptogenic treatments
Devita
Ladies enjoy a flowing lymphatic massage, Marma therapy, and an herbal pack to rejuvenate the energy of the kidneys and adrenal glands. Herbs known for supporting women's emotional wellbeing are used along with essential oils of rose damascene and sandalwood.
Manana
Gentleman's ritual uses powerful herbs and targeted techniques to recharge and boost men's vitality. The ritual starts with an argan seed scrub to cleanse and release fatigue from the body and mind. An invigorating Tibetan massage follows.
Together
Unwind with your loved one in our couples treatment room. Get revived by a body scrub and uplifting massage together.
Spa